Spaghetti carbonara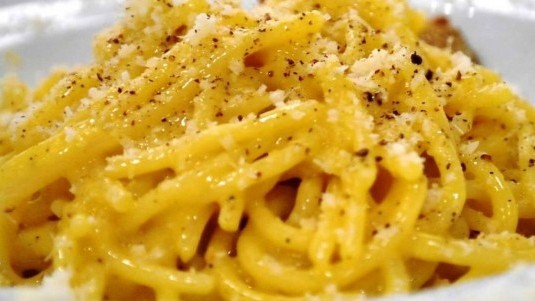 The perfect carbonara? On this I am a rigid fundamentalist.
And we pair this "perfect carbonara" with Frascati Eremo Tuscolano from Valle Vermiglia, a territorial,
chromatic and, obviously, flavor pairing.
Ingredients :
300g spaghetti, 150g guanciale pork jowl, 3 egg yolks and 1 whole egg, 300g grated pecorino Romano
cheese and black peppercorns.
Directions :
The eggs must be very fresh and not refrigerator cold.
Cut the guanciale into strips that are not too thick and fry them in a trickle of oil which, according to my
guanciale pusher, helps melt its fat and brown the meat. Fry until they are crispy but not burnt.
Drain off the oil and keep it aside to ensure the guanciale does not get soft before it is ready to be used.
While the pasta is boiling, beat the eggs and add in almost all the pecorino. I add a little of the water from
the pasta to make the pecorino nice and creamy.
Drain the pasta but not too much and put it in a pan and cook, stirring it vigorously with a wooden spoon
until some white starch cream emerges and then turn off the heat. Only now do I add the creamy pecorino.
Why does the pecorino need the starch? "Because starch, with its long glucose strains keeps the proteins
from coagulating and keeps or delays the pecorino from becoming lumpy".
At this point I add the guanciale, a little of the oil it was cooked in, the amount depending on whether you
are on a diet, and the rest of the grated pecorino on top of which I sprinkle the black pepper which I have
crushed in a small wooden mortar and pestle I inherited from my grandmother. The result is a splendid dish
with an old fashioned flavor thanks to an old fashioned recipe. But it's a good thing there are no health
inspectors around or they would close my kitchen down.
I keep mixing the pasta to allow the egg to full blend in but stop before it begins to become an omelet.
Not bad, right? In any case, any other ingredient is totally FORBIDDEN.
Wine to pair:
Eremo Tuscolano Frascati Superiore Doc Valle Vermiglia
Straw yellow. Intense and elegant aromas of citrus and flowers, agile. Savory finish with notes of
aromatic herbs and delicate fruits.
Production area: the slope of Monte Tuscolo, in the municipality of Monte Porzio Catone (Roma).
Grape varieties: Malvasia del Lazio 60% in blend with Malvasia di Candia, Trebbiano Giallo,
Trebbiano Toscano e Bombino Bianco.
Harvest: the grapes were carefully harvested by hand from the tenth to twentieth day of October.
Wine making: the grapes were soft pressed exclusively using the free-run must. After light
decantation lasting approximately 12 hours, the must was very slowly fermented for approximately
25-30 days at a temperature of 12 to 18°C. Aging and refining took place in stainless steel tanks in
the presence of fine lees.
Alcoholic content: 13%
Serving temperature: 8-10°C
Disclaimer: Rosanna Ferraro is the PR of Valle Vermiglia winery