Scallops with sweet potato purée and baby spinach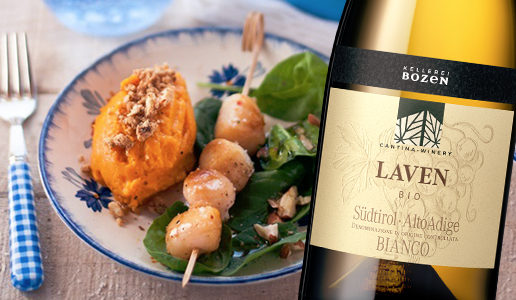 A scallop skewer balanced by the sweetness of the sweet potatoes and the iron flavor of the baby spinach. We pair this with a new organic wine from Cantina Bolzano: Alto Adige Bianco Laven 2020.
Ingredients for 4 people:
16 scallops, 2 medium-sized sweet potatoes, 20g butter, 15g finely crushed almonds, 40g flour, baby spinach, olive oil, white balsamic vinegar, whole almond, salt and pepper.
Directions:
Delicately wash the scallops or, if they are frozen, remove from the refrigerator 30 minutes before preparing the recipe to allow them to defrost slowly, while remaining seal-wrapped, in a bowl of warm water.
Peel the sweet potatoes and put them at the bottom of a pot of cold water. Let the potatoes cook for 20 minutes after the water boils. Strain through a ricer and season with salt and pepper.
Mix together the flour, the crushed almonds and a little salt then add in pieces of cold butter and mix them in with your finger. Bake the crumble in a pan for 10 minutes at 190°C.
Cook the scallops, which have been seasoned with olive oil and salt, on a skillet or hot pan for around 2 minutes each side. Put the scallops on a skewer.
Place some sweet potato purée on one side of each plate and top with some almond crumble. On the other side, spread out some baby spinach seasoned with balsamic vinegar and olive oil and place a skewer of scallops on top. Garnish with some roughly chopped almonds and serve.

Wine to pair:
(edited by Stefania Vinciguerra)
Alto Adige Bianco Laven Bio 2020 Cantina Bolzano/Kellerei Bozen
Straw yellow color with greenish hues. Fruity aroma with notes of ripe fruit such as apple, pear, peach and fine tropical fruits such as pineapple. In the mouth, it is elegant and powerful with a fresh pleasant acidity.
Production area: porphyry soils around Bolzano and on the Renon at an altitude of 600 meters.
Grape varieties: blend of Chardonnay, Pinot Blanc and Pinot Grigio, organically grown.
Grape harvest: from beginning to mid-September. Grapes are picked by hand and delivered in small boxes, the so-called Bins.
Vinification: gentle pressing of the grapes, alcoholic and malolactic fermentation, elevation on the fine lees in concrete spheres and oak casks (Pyramid) as well as in steel tanks.
Alcohol content: 13% vol.
Residual sugar: 3,8 g/l.
Serving temperature: 11-12°C.
Suggested food pairing: appetizer, such as fish soup, regional vegetarian dishes as well as medium-aged cheese.
Related Products