Salsiccia and friarielli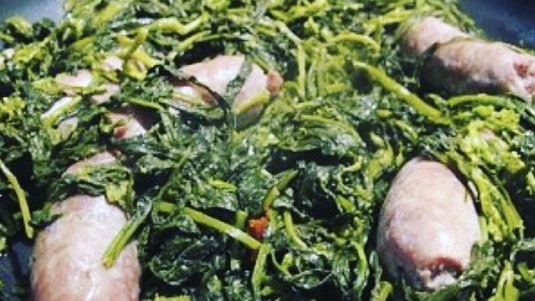 Salsiccia e friarielli (sausage and broccoli rabe) is a cornerstone of Neapolitan cuisine that we pair with a Tuscan Cabernet: Samma Maremma Toscana DOC Val delle Rose from the Cecchi family.
Broccoli rabe is a typical winter green that is called friarielli in the Naples area, broccoletti in and around Rome, cime di rapa in Puglia and rapini in Tuscany. They are the newly blossomed tops of turnip greens that have a unique, slightly bitter taste and are used in a host of recipes. Now that their season has drawn to a close, let's enjoy these greens cooked with sausages, a perfect union that creates an extremely flavorful rustic dish, and pair it with a Cabernet:.
Ingredients for 4 people:
800g pork sausage cut into pieces with a knife, 4 bunches of friarielli (around 1.2kg), 2 garlic cloves and, as desired, fresh chili pepper, extra-virgin olive oil and salt.
Directions:
Cut off the stalks of the friarielli, saving only the central part, then wash the greens and keep them to the side.
Put the sausages in a pan, cover them with water and cook at a high heat until the liquid has fully evaporated.
Pierce the sausages with a fork and then add 2 tablespoons of EVOO and a crushed garlic clove and slowly brown the meat for around 10 minutes.
In another pan, brown the other garlic clove in 3 tablespoons of EVOO and then add in the chili pepper and friarielli. Salt, cover and cook for about 10 minutes to make the green soft but not soggy.
Add in the sausages and simmer-cook everything together for another 5 minutes.

Wine to pair:
(edited by Stefania Vinciguerra)
Samma 2015 Maremma Toscana Cabernet Val delle Rose
Samma is the maximum expression of Cabernet of Val delle Rose, a wine of great complexity and elegance, with typical varietal aromatic expressions. This wine is dedicated to Samma, the one who has been the custodian of these lands before the arrival of Cecchi family.
Production Area: Vineyard Poggio la Mozza, Grosseto at an altitude of 150 Meters s.l.m.. Soil composition is feldspathic quartz sandstone with good presence of skeleton (rock).
Grape Varieties: Cabernet Franc 100% with 5.000 vines to hectare. Trellising technique is espalier and pruning spurred cordon.
Wine-making: Vinification in red with prolonged maceration on the skins. Fermentation in stainless steel tanks of small capacity at controlled temperature (26° C). Barrique aging for 12 months and bottle aging minimum 6 months.
Alcoholic Content: 14.5% vol
Production: 6,000 bottles.
Serving Temperature: 16-18 ° C
Suggested Food Pairings: first courses with game sauces, roast meats and aged cheeses.