Risotto with Sicilian broccoli purée and salted ricotta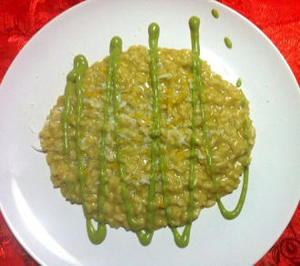 CHEF MATTEO GIUDICI
Ingredients for 4 people: 
320g Carnaroli rice, ¼ leek, vegetable broth as needed, 2 large Sicilian broccoli tops, 1 garlic clove, two unsalted anchovy fillets, salted ricotta cheese, 1 glass sparkling wine, 1 tablespoon grated grana Padano, 2 tablespoons of lemon-flavored extra-virgin olive oil, extra-virgin olive oil, a pinch of bicarbonate of soda and salt as needed.
Directions: 
Slice the leek into discs and blend with a mixer together with a ladle of vegetable broth and a little salt and then stew in a covered pot for 20 minutes at low heat. Blend again and keep aside. (This can be made ahead of time and then frozen for future use).
Boil the broccoli in abundant salted water with a pinch of bicarbonate of soda. When done cool the broccoli in ice water before blending it in a mixer together with the anchovy fillets, the garlic clove, 2 tablespoons of extra-virgin olive oil and an ice cube. Add a ½ liter of the water used for cooking the broccoli into the vegetable broth to be used for cooking the risotto.
In a broad pan toast the rice, douse it with the sparkling wine and let it evaporate. Start adding the vegetable broth a little at a time while cooking the rice. After 10 minutes add 1 tablespoon of stewed leeks and finish cooking the rice (18-20 minutes). A little before removing from the heat add ¾ of the broccoli purée.
Once you have removed the risotto from the heat mix in the grated grana and the lemon-flavored oil. Cover the risotto pan and let the rice sit for 2 minutes before serving on flat plates decorated with the remaining purée and grated ricotta cheese.
Wine to pair:
Altemasi Brut Millesimato Trentodoc Metodo Classico Cavit 
Altemasi represents the excellence range of Cavit sparkling wines. Light straw-yellow color and persistent foam with minute grain perlage. Complex aroma, very fine, presents a somewhat yeasty flavor with notes of yellow fruits and fresh almonds. Dry flavor, pleasantly fresh, with a slightly briny taste, lively and easy to drink. Long and elegant finish.
Production area: Trentino vineyards especially vocated to sparkling wine production: the Valle dei Laghi, the hills overlooking Trento and the Brentonico plateau, located between 450 and 600 metres above sea level.
Grape variety: exclusively Chardonnay.
Production: hand harvest, fermentation in stainless steel and barrique without skin contact. Classic method, four years on the yeast. Small quantity of liqueur d'expedition.
Alcoholic content: 12.50%
Serving temperature: 8-10°C
THIS RECIPE IS OFFERED BY: CAVIT