Puntarelle-filled Sea bass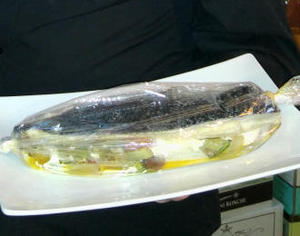 CHEF ROCCO DE JACOB
Ingredients for 4 people 
1 sea bass of around 1kg, 150g of puntarelle (chicory catalogna), 8 Pachino tomatoes, 20 taggiasche olives, 5-6 leaves of fresh basil, 100g robiola cheese, salt and pepper as needed and one sheet of carta fata cooking wrap (60cm wide).
Directions: 
Fillet into two and de-bone the sea bass. Braze the each fillet on the interior side in a pan with extra-virgin olive oil, salt and pepper for 3 minutes. Place the two fillets on the carta fata plastic wrap.
In the same pan cook the puntarelle that have been previously washed and cut into four. Cook for two minutes adding salt, pepper, the Pacino tomatoes that have been cut into four, the olives and the basil.
Spread a layer of robiola cheese on one fillet and place the puntarelle on top. Cover the fillet with the other fillet and close the carta fata 'candy-wrap' style.
Bake at 200°C for some 15 minutes.
THE CHEF:
This week's recipe was proposed by Chef Rocco De Jacob, the head of his family's restaurant Do Ciacole in Mira (Venice), in the Brenta coastal area. This is a "restaurant with pool" situated in a 16th century farmstead immersed in the Venice mainland countryside. The cuisine brings back and re-interprets traditional Venice recipes, both meat and fish dishes.
Closed sunday evening and monday