Prosecco and Parmigiano risotto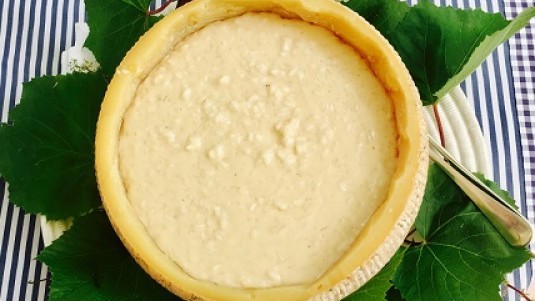 This recipe comes to us from Clementina, the chef at the restaurant Al Castelletto in Pedeguarda di Follina, in the Veneto province of Treviso, and should be paired with a Grave di Stecca Nino Franco
Ingredients for 6 people:
400g Carnaroli rice, 70g butter, 1.5l vegetable broth, 70g shallots, 130g Parmigiano Reggiano, 1 tablespoon extra-virgin olive oil, salt and pepper as needed, 1 bottle of Grave di Stecca Nino Franco.
Directions:
Finely chop the shallots. Melt 40g of butter in a broad pan then add the shallots together with the extra-virgin olive oil.
Add the rice to the pan and toast it. Douse the rice with 35cl of Grave di Stecca and stir it until the wine completely evaporates. Finish cooking the rice by adding ladles of boiling vegetable broth as needed until it is almost done.
Salt and pepper to taste.
Turn off the heat and stir in the remaining butter and then the grated Parmigiano.
The rice will continue to cook for a few minutes even without being heated.
Serve the rice in a hollowed out Parmigiano wheel (if it is for many people), otherwise create 'bowls' using small wheels of aged cheese cut in half horizontally.
Wine to pair:
Grave di Stecca Nino Franco
Brilliant pale straw colored. Plenty of fine softly arising bubbles. Scents of ripe fruit, aromatic herbs, sage; intense mineral and flint notes. On the palate dry but creamy. Persistent, with a touch of toasted almond.
Production area: an ancient origin vineyard, named "Grave di Stecca", a clos on the slopes of Prealpi, just near the townValdobbiadene center. The vineyard, exposed to south and partly screened by a huge park, enjoys a particular micro-climate.
Grape variety: 100% Glera.
Wine making technique: obtained by the second fermentation in "cuve close", charmat method.
Type: Brut (7 g/l).
Serving Temperature: 6-8° C.
Food Pairing: drinkable throughout the meal, it goes very well with ham, shellfish, fish and chips, shrimp and vegetable "tempura".