Prague ham roulade with carnaroli rice and sesame seeds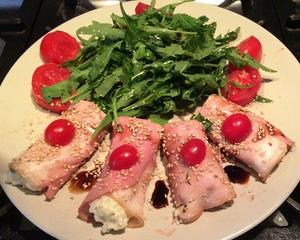 CHEF MATTEO GIUDICI  
Ingredients for 18 roulades: 
6 slices of Prague ham cut not too thin, 200g carnaroli rice, 1 spring onion, 2 unsalted anchovy fillets, 2 heaping tablespoons of toasted sesame seeds, 100g wild arugula, 20 cherry tomatoes, vino cotto vinegar as needed, extra-virgin olive oil and sale as needed.
For the mayonnaise:  1 whole egg, 200g sunflower oil, 2 tablespoons of hot apple vinegar, 1 tablespoon of mustard and salt as needed.
Directions: 
Preparing the mayonnaise: Put the sunflower oil and mustard into a mixing cup and blend for 30 seconds with a hand mixer. Add the whole egg, the vinegar and a pinch of salt and continue blending, raising and lowering the mixer to whip the mayonnaise. Cover the cup and let the mayonnaise set in the refrigerator.
Boil the rice in ample salted water, drain and then mix in a trickle of extra-virgin olive oil to keep the rice from sticking together and then spread it out to let it cool. Place the rice in a bowl and mix in the mayonnaise (the amount depends on personal preference), toasted sesame seeds, anchovy fillets and the onion which has been chopped finely. Salt to taste.
Spread the rice lengthwise on the slices of Prague ham and roll up to make six roulades that will then be cut into three pieces each. If the ham slices are short buy extra slices and cut the roulades into two.
Serve the roulades on a plate accompanied by the arugula and cherry tomatoes cut in half and seasoned with extra-virgin olive oil, a pinch of salt and a few drops of vino cotto vinegar. Sprinkle some toasted sesame seeds on top.
Wine to pair: 
Franciacorta Palazzo Lana Extrême Extra Brut Riserva 2007 Berlucchi 
Intense and golden straw yellow. Notes of apple, currant, white roses, passion fruit and clementine. Lively and juicy on the palate with a nice citrusy finish. Harmonic, tense and nice saline ending.
Production area: two high-density estate vineyards, in Borgonato di Franciacorta (BS): the Quindicipiò and Brolo vineyards, overlooking Palazzo Lana Berlucchi.
Grape variety: only Pinot Noir.
Production system: made from the free-run must, obtained by a gentle, gradual pressing. Initial fermentation is in stainless steel. Small lots are then transferred to oak barriques, where they mature sur lie for 6 months. Assemblage of the cuvée in the spring following harvest, with only wine from that specific vintage, selecting only the finest lots. Bottled with a liqueur de tirage of 20 g/l sugar and cultured yeasts. Maturation sur lie for a minimum of 60 months, followed by an additional 6 months following disgorgement. Syle Extra Brut.
Alcoholic content: 12.50%
Serving temperature: 8-10°C
THIS RECIPE IS OFFERED BY BERLUCCHI