Potato and provola cheese pasta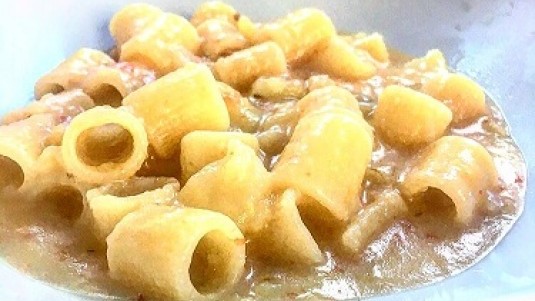 Pasta with potatoes and provola cheese, also called "alla Napolitana", is a classic Campania dish. Compared to the traditional recipe, this Neapolitan version has the addition of two fundamental ingredients, provola (a smaller provolone) and sweet bacon, which make it a rich and flavorful dish. We suggest a "provocative" pairing with a wine from outside the Campania region: Quercioli Reggiano Lambrusco Secco DOC Ermete Medici.
Ingredients for 4 people:
350g of bronze wire-drawn mezze maniche (half-sized rigatoni) pasta, 800g potatoes, 50g extra-virgin olive oil, 250g smoked Agerola provola, 100g sweet bacon, a few cherry tomatoes, 1 celery stick, 1 white onion, 3 basil leaves, Parmigiano Reggiano as desired, salt and pepper as needed.
Directions:
Put the EVOO into a deep saucepan and add the celery and onion that have been diced and sauté for a few minutes before adding the potatoes that have been peeled, washed and cut into cubes and the bacon that has also been cut into small cubes. Cook everything for around five minutes then add the tomatoes, some of which have been cut in half, and salt to taste.
Add enough water (around two ladles) to cover everything and simmer for around 40 minutes. After this add enough water to cook the pasta and bring to a boil before putting in the pasta and the basil leaves.
Cook the pasta until it is 'al dente' (slightly undercooked), adding additional water if needed as you would with a risotto.
Once cooked remove the pan from the heat and mix in the provola that has been cut into small pieces, the pepper and grated Parmigiano. Mix everything together vigorously until the cheese has melted and blended in. Let the pasta 'rest' for a few minutes before serving to let the flavors amalgamate.
Wine to pair:
Quercioli Lambrusco Reggiano Secco Doc Ermete Medici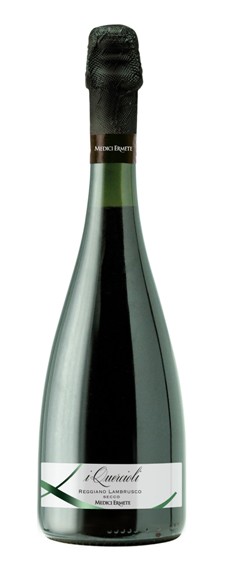 Slightly sparkling dry red wine at natural fermentation. Intense ruby red color with fine and rich froth when poured. Pleasant and persistent at the nose, with violet scent. The taste is dry, fruity, fresh, lively, pleasantly harmonious.
Production area: Reggio Emilia, mostrly from Quercioli estate.
Grape variety: Lambrusco Salamino and Lambrusco Marani, trained in spurred cordon.
Wine making: slightly sparkling at natural fermentation, to be consumed while young within 1 or 2 years.
Alcoholic content: 11% vol.
Serving temperature: 14-15° C
Suggested food pairing: typical dishes of Emilia cuisine.
Related Products