Pork shanks with charcoal-baked artichokes and potatoes and red currant mayonnaise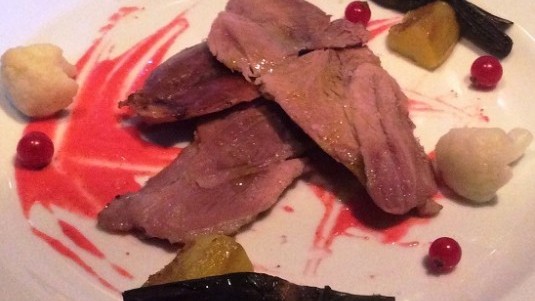 CHEF MATTEO GIUDICI
Ingredients for 4 people: 
2 pork shanks, 35g sugar, 66g coarse salt, aromatic herbs (sage, rosemary and thyme), 3 juniper berries, peppercorns, 125g redcurrants, ½ cup extra-virgin olive oil, 2 Sardinian artichokes, 2 potatoes, savory, lemon peel, extra-virgin olive oil as needed and Algarve fleur de sel.
Directions: 
Mix the salt and sugar together to create a rub. Take 12g of rub for each kg of shank and mix with the chopped aromatic herbs, juniper berries and crushed peppercorns. Rub the meat with the mixture and close each shank in a freezer bag and let them sit overnight in the refrigerator.
Blend the redcurrant in a mixer with extra-virgin olive oil to create a mayonnaise Filter and put aside.
Clean the artichokes and potatoes. Cut each into four and season with salt, extra-virgin olive oil, savory and grated lemon peel. Wrap everything in aluminum soil and bake in charcoal ash.
The next day wash the shanks thoroughly under cold water and air-seal in plastic wrap. Bake the shanks in a steam oven or in a thermostatic oven for 12 hours at 70°C. Remove the shanks from their bags, dry them and braze on all sides in a hot pan with a trickle of extra-virgin olive oil.
If you do not have either of these ovens, simmer the shanks in slightly salted aromatized vegetable broth for around 30 minutes without rubbing beforehand. Dry the shanks, salt and bake in an oven with the herbs in a slightly oiled pan at 180°C for around 50 minutes.
Serve the shanks with the redcurrant mayonnaise and some potatoes and artichokes on the side and Algarve fleur de sel sprinkled on top.
Wine to pair: 
Poggio al Leone Morellino di Scansano Riserva Docg Val delle Rose 
After a vast winemaking experience in Chianti Classico, the Cecchi family also invested in the Tuscan coastal area of Maremma and from their Val delle Rose estate comes this Morellino di Scansano reserve. It has an intense ruby ruby-red color and an aroma of ripe fruit, typical of Sangiovese in Maremma, and a balanced mouthfeel. A full-bodied wine to accompany structured and flavorful dishes.
Area of production: Poggio la Mozza in the appellation of Morellino di Scansano. The vineyards are situated at an altitude of 150m above sea level, the vines are spur pruned-cordon trained with a density of 5,000 per hectare and have a yield of 4,000kg per hectare.
Grape varieties: 90% Sangiovese and 10% others.
Winemaking method: The grapes ferment in the skins after previously macerating cold and the wine ages for 12 months in barriques and then at least another eight months in the bottle.
Alcoholic content: 14%
Serving temperature: 18°C
THIS RECIPE IS OFFERED BY CECCHI