Pork loin cutlets stuffed with Gorgonzola and Finocchiona salami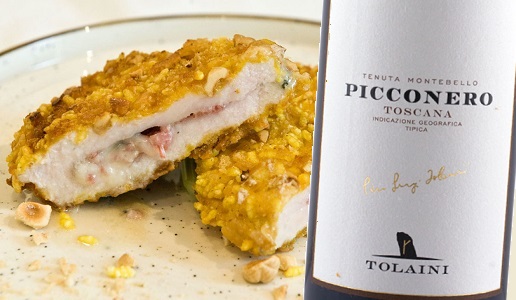 With its strong and distinctive flavor, this original recipe from Chef Gianpiero Cravero pairs well with a Picconero 2015 Tenuta Montebello Tolaini.
Ingredients for 4 people:
4 pork loin cutlets 1.5cm thick, 8 slices of IGP Finocchiona salami, 200g PDO Gorgonzola, 10 crushed bread sticks, 100g roughly chopped IGP Piedmont hazelnuts, 2 whole eggs, 50g flour and clarified butter for frying.
For the puffed rice: 80g rice, 1 packet saffron and oil for frying.
Directions:
For the puffed rice: boil rice in water with the saffron, drain well and spread out on a baking sheet to dry over night in an oven heated to 85°C. Fry the rice in very hot oil a little at a time and for a few seconds.
For the cutlets: Slice the cutlets sideways to create a pocket. Put a slice of Gorgonzola between two slices of Finocchiona salami and then place them inside the pocket.
Close the pocket well and then flour each cutlet before passing them first in the beaten eggs and then in the crushed bread sticks mixed with the puffed rice and chopped hazelnuts.
Fry the cutlets in the clarified butter for several minutes at a medium heat. Let the cutlets sit for a few minutes before serving.

Wine to pair:
Picconero 2015 Tenuta Montebello Tolaini
Very intense and concentrated ruby red color with light garnet red hues. Intense aromas of blackberry and blueberry, sweet spices and blond tobacco, then slight balsamic nuances and graphite. Full bodied, rich and concentrated with good acidity, big but soft tannins, fruity and well balanced taste, long finish.
Production area: Castelnuovo Berardenga in Chianti Classico, Tuscany. Lime and clay soil with a considerable presence of gravel size stones
Grape varieties: 65% Merlot and 35% Cabernet Franc. Plantings completed in spring 2000 with plant density of 6,900-11,000 plants per hectare and a yield of 5 tons/ha.
Winemaking: Grapes are first selected during harvest in the vineyard and then with the optical sorter when they arrive at the winery; they are destemmed and the whole berries are immediately put into French oak fermenters. The temperature is computer controlled in the tanks where the must is kept in contact with the skins for about 30 days; manual pigiage and remontage are done frequently, throughout the day every 4-6 hours and weekly one delestage is done. Malolactic fermentation takes place in French oak barriques (100% new). Maturation is on fine lees for 6 months in barriques. Aging 18 months in barriques, 12 months in bottle.
Note: Some sediment may occur in the bottom of the bottle as the wine is not filtered.