Napolitan meatloaf with pomegranate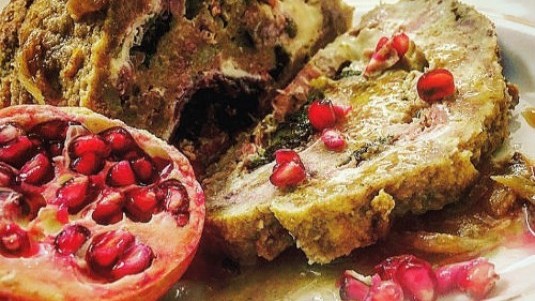 Meatloaf is a specialty of Italian cuisine and its ingredients change from region to region according to local traditions. The ingredients range from vegetables to fish, from meat to legumes and thus Italian meatloaf represents one of the most varied dishes with a slew of combinations and versions.
In Naples it is made with two indispensable ingredients: salami and provolone. The version using pomegranate, on the other hand, calls for the meatloaf to be cooked with red wine with the addition of pomegranate juice at the end to give it a certain dry sensation to counterbalance the richness of the dish.
Ingredients for 6 people: 
1/2kg ground veal, 200g stale bread soaked in water and squeeze-dried, 1 crumbled lard and black pepper tarallo pretzel, 4 eggs, 50g Parmigiano, 100g sweet provolone, 100g sliced Neapolitan salami, 1 carrot, 1 onion, abundant basil, or, as an alternative, fresh spinach, salt, pepper and olive oil as needed, 1 glass red wine and 2 pomegranates.
Directions: 
In a bowl mix together the ground meat with the soaked bread, the crumbled tarallo, eggs, salt and Parmigiano. Keep mixing together until everything is homogenous. Rollout the meat mix. Cut the provolone into thin slices. Create alternating layers on the meat using the salami, cheese and basil leaves. Roll the meat up into an oval form and squeeze-close the ends. 
Place the meatloaf in a baking pan and based with a generous trickle of olive oil. Add the wine, the sliced onion and the carrot that has been cut into pieces. Bake in an oven pre-heated to 200°C for 30-40 minutes.
When done place the meatloaf on a serving platter.
Create a gravy-sauce using the drippings from the pan and mixed with the juice from the pomegranates.
Serve the meatloaf cut into slices and topped with the gravy-pomegranate sauce together with some pomegranate seeds.
Wine to pair: 
Governo Toscana Igt Sangiovese San Leonino 
'Governo' means adding slightly raisined grapes (once Trebbiano, now Sangiovese) to the first new wine of the just completed harvest. San Leonino, the Chianti estate of Bertani Domains, since 2014 introduced this ancient production system to produce a fresh and fruity Sangiovese, that is also soft, and at the same time austere and elegant.
Production area: San Leonino in Castellina in Chianti (SI), on the border between the provinces of Siena and Florence, an area of contrasts between limestone and clay, a continental climate on the Florentine side and temperate one on the Siena side.
Grape varieties: 100% Sangiovese.
Winemaking method: after the first fermentation in concrete tanks, during the month of December a 30% of slightly raisined grapes is added to the mass. This addition triggers off a second slow fermentation in 90 hl barrels, which continues until the following spring. It is a process which increases glycerine levels and thus softens and rounds out the wine without affecting its austerity and elegance.
Alcoholic content: 13,5%
Serving temperature: 16-18°C
THIS RECIPE IS OFFERED BY BERTANI DOMAINS