Minestra maritata_EN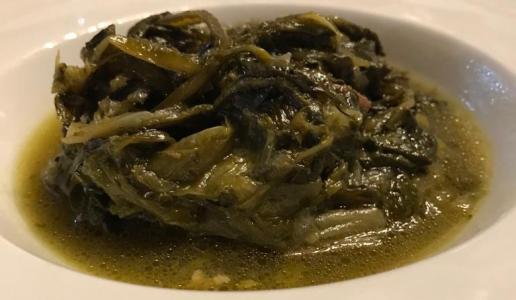 One of the oldest recipes in traditional Neapolitan cuisine that we pair with a Concerto Lambrusco Reggiano Ermete Medici.
A tasty meat and vegetable soup with that takes a long time to prepare. The ingredients are simple and easy to find.
Ingredients for 6 people:
2 escaroles, 1 curly escarole, 500g Neapolitan black broccoli, 500g Swiss chard, 500g chicory and 50g Parmigiano Reggiano.
For the broth: 800g ribeye steak, 1kg chicken, 300g pork sausage, 2 celery sticks, 2 carrots, 1 bunch of mixed aromatic herbs, salt and extra-virgin olive oil as needed.
Directions:
Prepare the broth in a large pot adding the streak that has been cut into cubes, the sausage, the chicken whole, the herbs, carrots and celery to an abundant amount of cold water and bring to a boil. Slow cook for around three hours, skimming off the fat from time to time.
In the meantime, clean and chop the vegetables separately and blanch them in salted water for a few minutes. Once the broth is ready, remove the meat and keep to the side. Filter the broth and add in the chopped vegetables along with the beef, chicken and sausage. Bring the soup to a boil for a few minutes. Serve the soup hot with grated Parmigiano on sprinkled on top.
Nel frattempo pulire e mondare le verdure separatamente e sbollentarle in acqua salata per pochi minuti. Quando il brodo sarà pronto, togliere la carne e riporre da parte. Filtrare il brodo e aggiungere le verdure, la carne di manzo, il pollo e la salsiccia. Portare ancora il tutto ad ebollizione per pochi minuti. Servire caldo cospargendo il piatto con il parmigiano reggiano grattugiato.

Wine to pair:
Concerto Lambrusco Reggiano Doc Ermete Medici
Intense lively red color with violet hues. Abundant and persistent foam. Intense aromas of ripe fruits, lily of the valley and pomegranate. Rich, agile, fresh, very pleasant, powerful and pleasant drinkability.
Production area: Reggio Emilia, in Tenuta La Rampata
Grape variety: Lambrusco Salamino, trained with spurie cordon on clay soil.
Winemaking: Charmat method.
Classification: sparkling dry red wine at natural fermentation. To be consumed while young within 1-2 years
Alcoholic content: 11,5% vol.
Serving temperature: 14-15°C
Food pairing:
- Emilian cuisine: Cured pork meats, such as salami from Felino, mortadella, culatello (salami made of lean ham), raw ham; tortellini and cappelletti (stuffed pasta) in broth, lasagne, tagliatelle pasta with meat sauce, tortelli stuffed with pumpkin and spices.
- Italian cuisine: seasoned cheese, mixed meat sauces, stuffed roast, grilled meats.
- Vegetarian cuisine: Lasagne with mixed vegetable sauce.
Related Products