Mezza Maniche pasta with arugula and crushed pistachio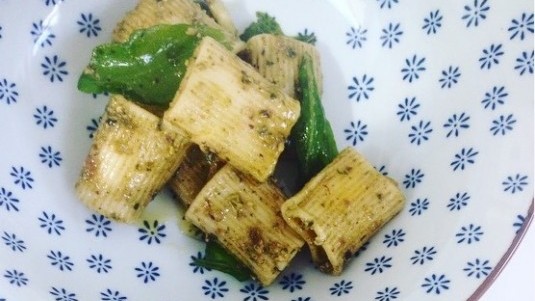 A healthy and light Sicilian-style dish enhanced by Bronte pistachio nuts to pair with Salina Bianco IGP from Cantine Colosi. 
Ingredients for four people: 
370g of Mezze Maniche pasta, 50g Bronte pistachios, 200g arugula, 1 clove of garlic, 30g extra-virgin olive oil, salt as desired and 50g grated grana hard cheese.
Directions: 
Cook the pasta in salted water until it is 'al dente'. In the meantime, use a mortar and pestle (or a blender-mixer) to crush the pistachios, arugula and half the garlic until it is a creamy mix. Put the mix in a bowl and add a few tablespoons of the boiling water from the pasta, the grated cheese and salt. Mix in the slightly undercooked pasta, the rest of the oil and fresh arugula leaves that have been cut into pieces. Excellent lukewarm.
There are two types of arugula, wild and cultivated, and the latter is suggested for this dish. This because while the flavor is always aromatic it is slightly less bitter and makes the dish more delicate and allows all the ingredients to come out. Aside from the diuretic and depurative properties of the arugula, this dish adds the phosphorous, magnesium and vitamins contained in the pistachios which make it a very healthy meal.
Wine to pair: 
Salina Bianco Igp Cantine Colosi 
A Sicilian white wine, straw yellow with green hues. Intense at the nose, with strong hints of ripe fruit and exotic fruits and the typical sensations of the Mediterranean scrub. It has the intense
flavor of white peach.
Production area: Capo Faro - Salina, Eolie Islands, with volcanic, medium texture soils.
Grape varieties: Inzolia 50%, Catarratto 50%.
Harvest time: mid September.
Wine making: no maceration, soft pressing of the grapes, static clearing of the must and fermentation at controlled temperature of 16°C. in stainless steel tanks. 3 months of bottle ageing.
Alcoholic content: 12,5%.
Serving temperature: 10° C.
Food pairing: excellent with hors d'oeuvres, fish and seafood.