Hare cacciatore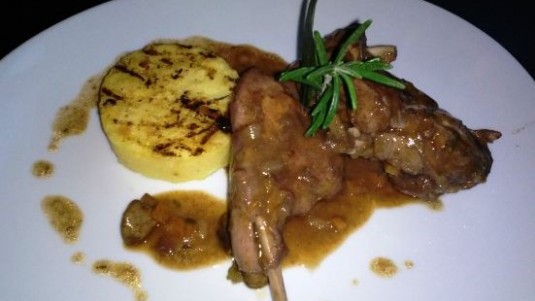 Ingredients for 6 people: 
1 clean and gutted hare cut into pieces, 1/2 liter structured red wine (like the Amarone paired below), 2 carrots, 1 golden onion, 1 celery stick, 1 liter vegetable broth, 1 bunch of aromatic herbs (rosemary, thyme, sage and 5 crushed juniper berries), 2 glasses of structured red wine, 100g butter, 2 tablespoons extra-virgin olive oil, 2 tablespoons flour, 1 tablespoon cacao, 1 tablespoon tomato paste, salt and freshly ground pepper, 30g softened dried porcini mushrooms, 1 garlic clove and 2 tablespoons extra-virgin olive oil.
For the polenta : 375g corn flour, 1.5 liter water and coarse salt as needed.
Directions: 
Marinate the hare for a couple of hours in the red wine.
In the meantime, prepare the polenta: bring the water to a boil, add salt and sprinkle in the corn flour, whipping it continuously to avoid lumps being formed, and cook for around an hour stirring constantly. Once cooked put the polenta onto a baking pan, flatten it and let cool. When it is cool and firm, cut some 6-cm wide discs using a food ring cutter or glass. Sauté the mushrooms in a pan with a tablespoon of olive oil and a garlic clove. Add a ladle of vegetable borth and simmer for 20 minutes.
Remove the hare from the marinade, dry it well with paper towels and dust with the flour mixed with the cacao. Using a large pan, melt the butter in with the extra-virgin olive oil and when it begins to bubble add the pieces of hare and brown them well on every side. Add the vegetables that have been cut into cubes and pour over two glasses wine. Once the wine has evaporated, add in the tomato paste, the bunch of aromatic herbs, the salt and some ground pepper and then a ladle of broth. Cook covered at a low heat for 1 hour, adding more broth if necessary.
After an hour, remove the bunch of herbs and add in the mushrooms and continue to cook for another 30 minutes. During this time grill the discs of polenta.
Serve hot on flat plates together with the freshly grilled polenta discs.
Wine to pair: 
Amarone della Valpolicella Valpantena Docg Bertani 
This wine comes from the hills of the Valpantena, the only "cru" subzone in the Valpolicella area. Bertani's traditional devotion to producing Amarone is also found in this wine, a modern and balanced Amarone, but still authentic and rich in body. New fermentation technology and drying methods give balance and elegance to the wine's exuberant fruity notes, blackberry flavor, hints of mint, sweet cherry and spicy notes that are typical of this valley. Good follow-through of red fruits on the palate, with supple tannins to give depth.
Production area: the Valpantena hills, north of Verona. The soils are calcareous-marl in the east and calcareous-clay in the west, rich in iron.
Grape varieties: 80% Corvina Veronese and 20% Rondinella. The vines are vertical-trellised and Guyot-trained, with a planting density of 5000 plants/ha.
Wine making system: the harvest is done by hand and starts in the middle of September. The best grapes are selected so that only the healthiest and ripest bunches are sent to the drying rooms of the winery in Grezzana, where they are laid out in single-layer crates. In mid-January, the grapes are destemmed and crushed, then fermentation starts, at first at a temperature of 4°- 5°C, which then reaches 22°C in the final stages. A part ages in Slavonian oak barrels with an average capacity of 25 hl, and a small part in barriques for about 30 months. Bottling is followed by at least six months of maturation.
Serving temperature: 16-18°C.
Food pairing: it is a full-bodied wine that needs rich dishes, mature cheeses and strong-flavored meats.