Fettuccine with Partanna onions and mint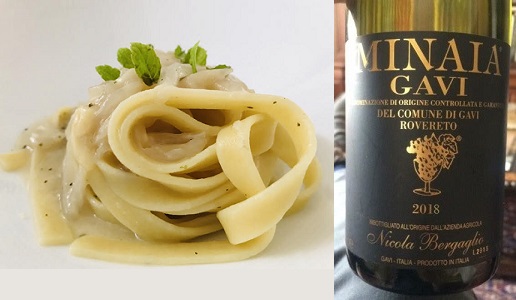 An unusual sauce for these fettucine noodles we pair with a Gavi del Comune di Gavi DOCG Minaia 2018 Nicola Bergaglio.
The characteristics of onions from Partanna, a town in the province of Trapani, are that they have an intense yet delicate aroma and a meaty and sweet flavor. They make an excellent condiment whether cooked or raw.
Ingredients for 6 people:
400g fresh egg fettucine, 1kg Partanna onions, 1 celery stick, mint, pepper, salt, 4 tablespoons extra-virgin olive oil, 100g white wine and Parmigiano Reggiano as desired.
Directions:
Clean and cut the onions into thin slices. Shred the celery and remove any filaments.
Heat the oil in a broad pan and add in the onions and celery. Sauté for a few minutes ensuring nothing burns. Add in the wine and salt and continue to cook for around a half an hour or until the onions are completely broken down.
Boil the fettuccine and add it to the onion sauce, seasoning it with pepper, Parmigiano and fresh mint leaves.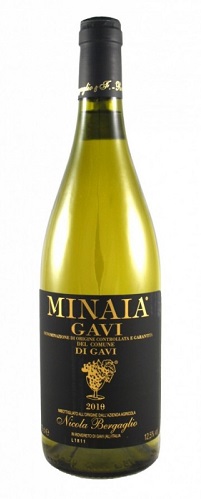 Wine to pari:
(edited by Stefania Vinciguerra)
Gavi del Comune di Gavi Docg Minaia 2018 Nicola Bergaglio
Bright straw yellow color. Aromas of white flowers and flint, eucalyptus, renette apple and wild mint. Juicy and balanced taste, pleasantly savory and long persistence with notes of cedar and smoky hints.
Production area: Minaia single vineyard in Gavi appellation, in the province of Alessandria.
Grape variety: 100% Cortese.
Wine-making: Stainless steel on the yeasts for 5 months.
Serving temperature: 10°C.
Suggested food pairing: raw ham, culatello, beetroot tortelli, vegetable cakes, fish dishes, fresh robiola and tome cheese.
Related Products