Cotechino with a red lentil purée…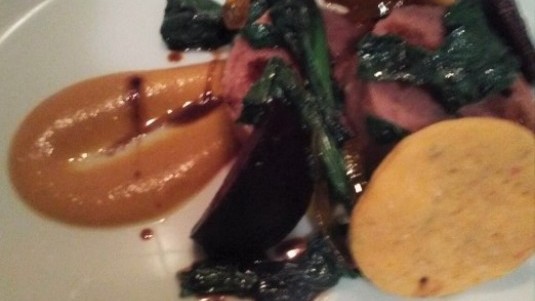 turnip greens, candied orange, oregano crackers and reduced balsamic vinegar
Ingredients for 4 people:
1 fresh 800g cotechino pork sausage, 300g red lentils, 50g finely diced vegetables (celery, carrot and onion), vegetable broth as needed, 200g cleaned turnip greens, 1 Sulmona red garlic clove, chili pepper as desired, peppercorns, 2 laurel leaves, extra-virgin olive and salt as needed.
For the candied orange : the peel of 1 orange, 200g water and 150g sugar.
For the crackers : 100g white flour, 50g room-temperature butter, 25g cold water, 1 teaspoon tomato paste, 1 teaspoon of dried oregano and salt as needed.
For the reduced balsamic vinegar : 100g Modena balsamic vinegar and 2 tablespoons of honey.
Directions:
Use a needle to poke holes in the cotechino skin and place it in a pan with cold water, the pepper corns and laurel leaves and simmer for around two hours, during which time you can complete the rest of the recipe.
Dissolve the tomato paste in water, add the oregano and let it moisten in the refrigerator until it becomes cold. Prepare a mound of flour on a cutting board, place at the center the soft butter that has been cut into small pieces and add salt. Mix the flour and butter together until it become uniform but still lumpy. Add the water with the tomato paste and oregano and mix everything together until it becomes a smooth dough, making sure it remains no more than room temperature. Wrap the dough in plastic and let it sit in the refrigerator for 20 minutes.
Peel the orange with a peeler and place the peel in a pan with cold water and bring to a boil then drain. Change the water and repeat the action for a total of three times. Once this is done dry the peel well and slice it julienne-style.
Put the sugar and water in a pan and let is simmer until it becomes a syrup and then add the orange peel and cook at a low heat until the liquid has evaporated and the sugar begins to caramelize.
Roll out the dough into a think sheet about 1/2cm thick and then cut the dough into 5cm discs using a glass or pastry cutter and then bake for 10-12 minutes in an oven pre-heated to 180°C.
Toast the lentils in a pan with the diced vegetables, add a couple of ladles of hot vegetable broth, salt to taste and cook for around 30 minutes. Blend the lentils with a mixer until it becomes a purée that is not too thin.
Parboil the turnip greens for about 8 minutes and then cool in ice water. Drain and dry the greens and fry in a pan with 1 tablespoon of extra-virgin olive oil, a garlic clove, a little chili pepper and a bit of salt.
Put the balsamic vinegar in a pan with the honey and cook at a low heat until it thickens into a syrup.
Take the cotechino out of the aromatized water, let it cool and then cut into 2cm-thick slices.
Place two cotechino slices on each plate together with a heaping tablespoon of lentil purée, some turnip greens and spread some candied orange peel on top then trickle some reduced balsamic vineyard over everything and accompany with two oregano crackers.
Wine to pair:
Concerto Lambrusco Reggiano Doc Ermete Medici
Rich, bright and intense ruby red with rich and lively sparkles. Excellent olfactory purity. Intense flowery notes with macerated roses and violets, scents of strawberry, raspberries and cherries. Easy to drink with smooth fruity sensations. Dry and round, fresh, lively and harmonious.
Production area: Reggio Emilia, in Tenuta La Rampata
Grape variety: Lambrusco Salamino, trained with spurie cordon on clay soil.
Winemaking: Charmat method.
Classification: sparkling dry red wine at natural fermentation. To be consumed while young within 1-2 years
Alcoholic content: 11,5% vol.
Serving temperature: 14-15° C
Food pairing:
- Emilian cuisine: Cured pork meats, such as salami from Felino, mortadella, culatello (salami made of lean ham), raw ham; tortellini and cappelletti (stuffed pasta) in broth, lasagne, tagliatelle pasta with meat sauce, tortelli stuffed with pumpkin and spices.
- Italian cuisine: seasoned cheese, mixed meat sauces, stuffed roast, grilled meats.
- Vegetarian cuisine: Lasagne with mixed vegetable sauce.