Breaded Arctic char fillets with squid ink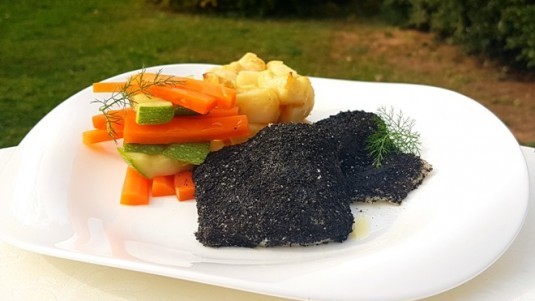 A recipe from the Maso Franch restaurant in Giovo, in the province of Trento, to pair with a Chardonnay Diàol from the Le Selezoni di La-Vis line.
Ingredients for 4 people:
4 Arctic char fillets, 200g bread crumbs, 20g squid ink, 1 carrot, 1 zucchini, 1 cauliflower, 1 celeriac, 1 garlic clove, 1 rosemary sprig, wild fennel, extra-virgin olive oil, thyme, salt and pepper.
Directions:
Mix the breadcrumbs together with the squid ink.
Remove any bones from the fillets, salt lightly, bread and then bake them at 180°C for 8 minutes.
Peel the celeriac, cut it into cubes and boil them in salted water for 10 minutes. Drain and put the cubes in a pan with a garlic clove, a rosemary sprig, a trickle of extra-virgin olive oil, salt and pepper and bake at 180°C for 20 minutes.
Clean the other vegetables and cut them into sticks then boil them in salted water for 3-4 minutes and after sauté them in a pan with extra-virgin olive oil and thyme.
Wine to pair
Diàol Trentino Chardonnay Doc Lavis

Selections from Cantina Lavis stem from the "wine zoning project" that has represented the winery's underlying philosophy for over 30 years. These wines are high level products grown in selected areas, in particularly suitable vineyards. This Chardonnay is the best expression of the typical zones where these vines are grown.
Intense straw yellow color. Fragrant aromas of moutain grapes, pear and white peach, fresh almond
and citrus hints, light smoky puffs. Savory, rich, warm taste. Good persistent finish.
Production area: Municipality of Lavis, loc. Pressano; vineyard located at 270 m. asl with a South-West exposure. Soil composition: Clayey loam, well-drained, fertile, with predominantly silty lithology.
Grape variety: 100% Chardonnay, Guyot trained with planting density of 6,250 vines/hectare.
Wine making: manual harvesting around Mid-/End-September, soft pressing, fermentation in stainless steel tanks, French oak barriques and tonneaux, ageing on the lees for approximately 12 months before bottling, and further ageing in the bottle for a minimum of 6 months.
Related Products