Beef sashimi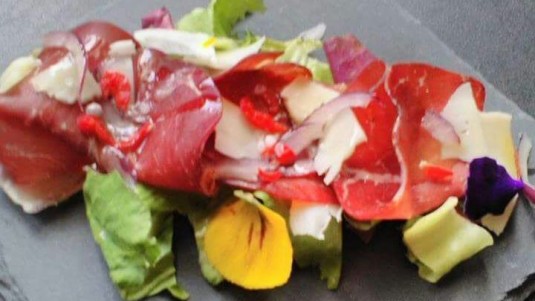 A simple way to serve tasty, raw meat to pair with a Chianti DOCG I Sodi del Paretaio from Bada di Morrona.
Ingredients for 4 people: 
1kg round steal in a single piece, 1.5kg fine salt, 1.5kg white sugar, 1 orange (peel), 1 lemon (peel), spices (juniper berries, 1 star anise, 1 cinnamon stick and course black pepper), 200g mixed leaf salad, 2 ribbed tomatoes, 2 sweet red peppers, 1 red Tropea onion and 100g Asiago cheese.
Ginger and lime oil:  200ml olive or grapeseed oil, ½ lime (peel) and 20g thinly sliced fresh ginger.
Directions: 
Clean and tie the meat. Prepare a dry marinade mixing the salt with the sugar, citrus peels and spices. Put the meat in a container with high sides, cover with the marinade, seal with plastic wrap and let sit in the refrigerator for 48 hours.
Put the lime peel and thinly sliced ginger in a small pan with the oil and heat to 55°C. Remove the pan from the heat, cover with plastic and let it infuse for 24 hours.
Remove the meat from the marinade an hour before serving. Rinse and dry the meat well and then slice it thinly, best if using a food cutter. Prepare each plate with sliced tomatoes covered with the mixed leaf salad and then place the sliced meat on top together with the sweet peppers, a little chopped onion and shavings of Asiago cheese. Trickle the ginger-lime oil over everything.
Wine to pair: 
I Sodi del Paretaio Chianti Docg Badia di Morrona 
This wine is a typical expression of Chianti: good freshness on the nose with perceptible notes of fruit and flowers. On the palate, the wine is pleasurable and versatile, soft in its tannins and ripe. It is meant to be drunk young.
Production area : the hills not far from Pisa (Colline Pisane).
Grape varieties : Sangiovese 85%, Cabernet Sauvignon, Merlot and Syrah 15%.
Wine making:  the grapes are manually harvested, vinification is in stainless steel tanks, the aging is for ten months in concrete or stainless steel tanks.
Alcoholic content : 13,50%.
Serving temperature:  in warm season, better at 16°C.
Food pairing:  a perfect wine for salami, cheese, and red meat.