Whole wheat spaghetti with yellow tomatoes and saffron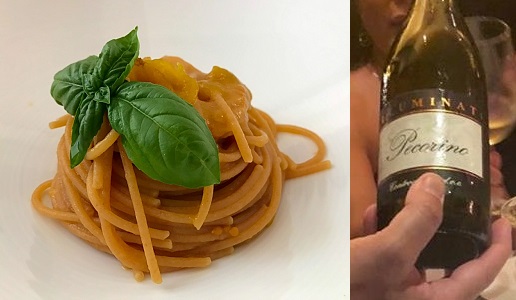 A colorful and flavorful dish that recalls sunny lands, fragrances and authentic flavors. We pair it with Controguerra Pecorino 2018 Illuminati.
Ingredients for 4 people.
359g whole wheat spaghetti, 800g yellow tomatoes, 50g extra-virgin olive oil, 1 garlic clove, 3g saffron, basil and salt.
Directions:
Pour the EVOO into a pan together with a peeled garlic clove and cook at a low heat for around two minutes before adding in the tomatoes that have been cut in half. Salt to taste, cover and cook at a medium heat,
Boil the spaghetti and take out a ladle of the pasta water to dissolve the saffron in.
When the spaghetti are still very undercooked (al dente) drain and put them and the saffron water into the tomato sauce, mix and continue to cook a few minutes until done.
Remove the garlic and add the fresh basil before serving.
If you like you can add some fresh chili pepper to offset the sweetness of the tomatoes.

Wine to pair:
(edited by Stefania Vinciguerra)
Controguerra Pecorino 2018 Illuminati
Lively straw yellow color with greenish highlights. Typical slightly vegetal aromas of sedanon and cedar with fruity and flowers tons. Fresh taste, agile, savory, very pleasant and delicious drinkability.
Production area: The vineyards are in the municipality of Controguerra, in the D.O.C. area, 250 metres a.s.l. with rather fresh medium-textured soil, tending to clayey.
Grape variety: 100% Pecorino. The vineyard is trained with a vertical trellis system with a density of approximately 5,600 stocks per hectare. The rows are south-west oriented.
Harvest: The Pecorino grapes are hand-picked, after an accurate selection, during the second decade of September, depending on the climate conditions.
Winemaking: Grapes are stemmed and very softly crushed; the must is statically decanted before being poured into thermo-conditioned stainless steel tanks to ferment at a controlled temperature ranging between 16° and 18°C. Approximately 10% of the must is fermented 4 months in barriques so to release a moderate boisé and a finer character.
Alcoholic content: 13% vol.
Serving temperature: 8-10°C.
Suggested food pairing: Best served with fish, seafood salads, starters, stewed stockfish, king prawn skewers with onions and courgettes, fried courgette flowers, fried anchovies.
Related Products