Violet Potato, Red Shrimp and Franciacorta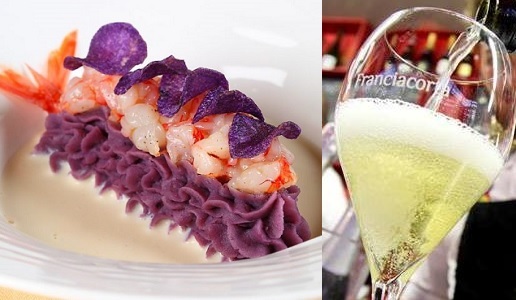 What better occasion than the New Year's Eve dinner to try this recipe by chef Stefano Cerveni of the Due Colombe restaurant at Borgo Antico? Pair it with a Franciacorta Satèn of your choice.
The inn Due Colombe was in Rovato, but in 2010 - after having obtained the Michelin star - changes location and moves to Borgo San Vitale a Corte Franca, always in the heart of Franciacorta. This dish is one of the restaurant's classics.
4 servings:
800 g violet potato, 1 shallot, 8 fresh prawns from Mazara del Vallo, ½ l peanut oil, ½ l Franciacorta Brut, 40 g butter, 2 dl. of liquid cream, 2 tablespoons extra virgin olive oil, salt and pepper.
Directions:
Steam 600 grams of violet potatoes, peeled and cut into pieces, with the roughly chopped shallot. When the potatoes are cooked, drain without drying too much. Puree the vegetable mixture until the mixture is smooth and completely mixed. Put the puree on low heat for a few moments, adding 20 grams of butter and 1 dl of cream; mix well, add salt and pepper.
Peel the potatoes not used for the purée, cut them into very thin chips, and leave them in cold water for 5 minutes (to remove the excess starch). Drain them, dry them well and fry them in peanut oil, paying attention to the temperature (max 160°C) to keep the bright violet color. Remove the chips from the oil, put them aside in a warm place on a clean paper towel.
Clean the prawns, keeping only the tail meat, cut into small cubes and marinate in a little olive oil, salt and pepper for 5 minutes.
Reduce the Franciacorta by half over high heat, add the remaining cream and a little pepper; boil for a few moments. Remove from heat and beat with a whisk, incorporating the remaining butter.
Spread a thin layer of Franciacorta sauce on a large shallow and hot dish. With the help of a pastry bag, make a 10 cm long strip of hot purée. Lay the red shrimp on top of this, followed by the violet potato chips. Serve immediately.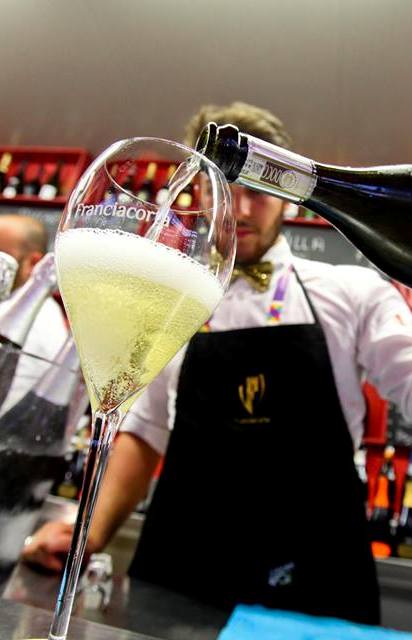 Wine to pair:
(edited by Stefania Vinciguerra)
Franciacorta Satèn Docg
The DOCG denomination (guaranteed and controlled origin) of Franciacorta allows 5 different version of this wine: Franciacorta, Franciacorta Satèn, Franciacorta Rosé, Franciacorta Millesimato and Franciacorta Riserva. All wines that undergo secondary fermentation in the bottle and residue is removed by disgorgement.
The name Satèn is made up and the brand was registered in 1995 to indicate a specific type of Franciacorta: a blanc des blanc that also must have a 'taste softness' achieved by having lower carbonation in the bottle, less than 5 atm pressure, and it must be a Brut.
Regulations also establish the qualities the wine should have: ''a very delicate and persistent effervescence, almost creamy, and a straw-yellow color, which can be intense with green reflections. The aroma should be that of ripe fruit accompanied by delicate notes of white flowers and dried fruit, even roasted (almonds and nuts). A pleasing sapidity and freshness should come together to create a natural softness that recalls the delicate sensation of silk''. Apparently, the name Satèn was chosen with that sensation of silk in mind.
Area of production: in the province of Brescia, in the quality soils in the towns of Paratico, Capriolo, Adro, Erbusco, Cortefranca, Iseo, Ome, Monticelli Brusati, Rodengo Saiano, Paderno Franciacorta, Passirano, Provaglio d'Iseo, Cellatica and Gussago, as well as in an area that includes the towns of Cologne, Coccaglio, Rovato, Cazzago San Martino and Brescia. Excluded are areas that are not sunny enough or are at the bottle of a valley, humid areas near rivers, streams or lakes and vineyards above an altitude of 550m.
Grape varieties: a blanc des blanc made only with the white grapes used for Franciacorta, mostly Chardonnay with an optional addition of less than 50% of Pinot Blanc (the red Pinot Noir grape is used in other Franciacorta wines).
Winemaking method: The grapes must be turned into must exclusively through direct pressing without any destemming of the grapes. The use of oak barrels is allowed for fermentation and aging. The time the wine must sit on the lees begins when the wine is bottled and lasts until it is disgorged after a minimum of 24 months. Bottle pressure less then 5 atmospheres. Sugar dosage only brut.
Serving temperature: 8°C.
THIS RECIPE IS PRESENTED BY CONSORZIO DI TUTELA FRANCIACORTA