Tuna and cannellini salad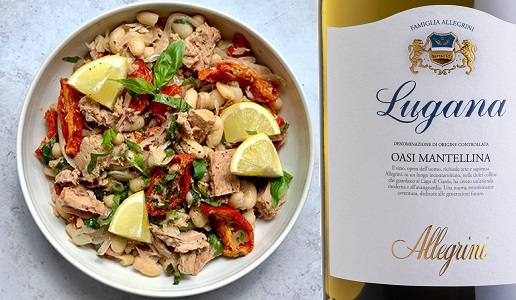 It takes only 10 minutes to prepare this tasty summer salad that we pair with a Lugana Oasi Mantellina 2019 Allegrini.
Ingredients for 4 people:
1 shallot, 2 garlic cloves, a 220g can of cannellini beans, 300g of MSC certified canned tuna, 1 teaspoon thyme leaves, 1 small jar of dried tomatoes, ½ lemon, 3 tablespoons chopped basil and 85ml extra-virgin olive oil.
Directions:
Delicately sauté the shallot and garlic in EVOO until they are soft and translucent.
Add the beans that have been drained and, taking care to not break them too much, heat them.
Add the tuna, tomatoes and thyme and continue to cook for a couple of minutes.
At the end add the basil and the juice from the lemon.
Serve together with croutons and a few leaves of a bitter green like arugula or watercress.

Wine to pair:
Lugana Oasi Mantellina 2019 Allegrini
Pale straw yellow in color with greenish reflections. The delicate, understated fragrances proffer floral notes mixed with hints of almond. The palate is graceful, stylized, well-defined, taut and flavorsome.
Production area: Vineyards located in the Municipality of Pozzolengo, in Lugana DOC area, at an altitude of 100 meters (330 feet), on clayey soils exposed to south-west.
Grape varieties: 96% Turbiana, 4% Cortese, Guyot training system.
Grape harvest: Manual harvest carried out in September
Vinification: Soft pressing of de-stemmed grapes, ageing 4 months in stainless steel, 2 months in the bottle
Vintage characteristics: The seasonal development in the weather during 2019 saw time go back at least a couple of decades. Thanks to the cold temperatures in the month of May, the harvest started some ten or more days later than in previous vintages, with reductions in yields of 15-20% compared with 2018. After years of high temperatures during the final phase of ripening, encouraging the accumulation of sugars more than aromatic substances, we finally experienced a vintage in which low temperatures, combined with marked differences in day- and night-time temperatures fostered the excellent accumulation of coloring substances and substantial acidity.
Alcoholic content: 12.9 % Vol.
Ideal serving temperature: 12°C, in wide tulip-shaped glasses.
Suggested food pairings: Excellent as an aperitif and paired with appetizers or freshwater fish such as trout, perch and whitefish. It is ideal with salmon and tuna and goes perfectly with fish-based finger food. It makes a perfect match with raw fish, such as the Japanese preparations of sashimi and sushi and international variations on the theme.
Related Products