Tuna Steaks in Sesame Crust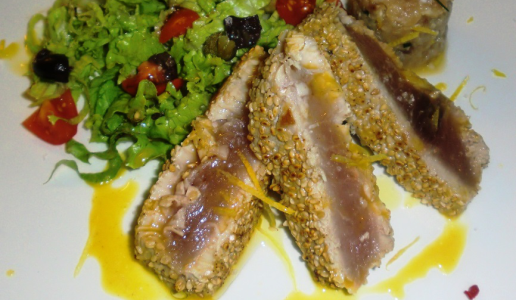 Tuna meat, tender and tasty, finds an excellent enhancer in sesame breadcrumbs and goes well with Gavi del Comune di Gavi Minaia by Nicola Bergaglio.
Ingredients for 4 people:
4 tuna steaks 120g each, 2 tablespoons of soya sauce, grated lemon peel, 100g sesame seeds, extra-virgin olive oil, salt
Directions:
Place the tuna steaks in the freezer for at least 24 hours, to eliminate any possible presence of Anisakis, and then defrost and marinate for around 15 minutes in the soya sauce and grated lemon peel. Dry the steaks well with a paper towel and rub them with EVO olive oil.
Spread the sesame seeds out on a flat plate and press the steaks on top of them so the seeds stick firmly and uniformly. Cook the tuna in a hot non-stick or cast-iron pan for 1-2 minutes per side, turning them over carefully, allowing the inside to remain pink (55°C if you have a cooking thermometer).
Cut each steak into slices, place it on the plates with salad and a little bit of extra-virgin olive oil and serve.

Wine to pair:
(by Stefania Vinciguerra)
Gavi del Comune di Gavi Docg Minaia 2017 Nicola Bergaglio
Bright straw yellow color. Fragrant aromas of exotic fruits, cedar, hints of white flowers, fresh almond and flint. Delicious taste, delicate, pleasantly savory, richer body compared to other vintages but very good drinkability.
Production area: Minaia single vineyard in Gavi appellation, in the province of Alessandria.
Grape variety: 100% Cortese.
Wine-making: Stainless steel on the yeasts for 5 months.
Serving temperature: 10°C.
Suggested food pairing: raw ham, culatello, beetroot tortelli, vegetaable cakes, fish dishes, fresh robiola and tome cheese.
Related Products