Trenette with pesto sauce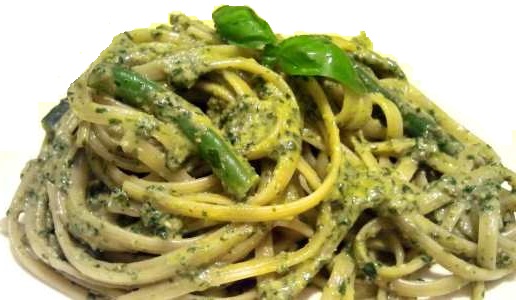 The aroma of pesto, so fresh and herbal, pairs perfectly with the aromatic notes of Alto Adige Sauvignon Sanct Valentin 2016 from Cantina San Michele Appiano.
Ingredients for 4 people:
500g trenette pasta (whole grain if possible), 1 large potato cut into small cubes, 100g string beans cut into small pieces.
For the basil pesto: 4-5 Ligurian basil leaves, 2 garlic cloves, a pinch of coarse salt, a tablespoon and a half of grated Parmigiano Reggiano, a tablespoon and a half of grated Pecorino Romano, a handful of pine nuts and extra—virgin olive oil.
Directions:
For the pesto: put the basil, garlic and pine nuts in a marble mortar with the coarse salt and crush them with a pestle adding in EVOO little by little.
Keep working the mix into an emulsion then add in the cheese. The consistency in the end must be creamy and the quantity of oil added will depend on how much is absorbed by the sauce.
In the meantime, boil an abundant amount of salted water and cook the beans and potatoes. Use the same water to cook the trenette pasta. Drain the pasta when it is al dente (slightly undercooked) saving some of the water.
Mix the pesto with the pasta and add some of the cooking water if it is too dry.
Serve using a food mold and garnish with a sprig of basil.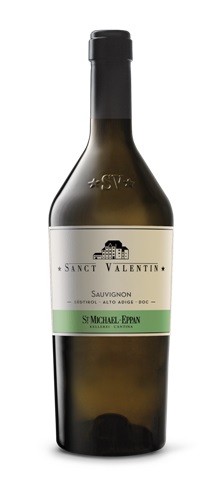 Wine to pair:
(edited by Stefania Vinciguerra)
Alto Adige Sauvignon Sanct Valentin 2016 Cantina San Michele Appiano
The foundation was first laid in 1989 for what is arguably the most famous white wine produced at St. Michael-Eppan Winery. Yellow-green color. Dense nose of yellow fruit, gooseberry, elderflower and ripe redcurrant. Crisp acidity, smooth body and an elegant fullness. Very good persistance.
Production Area:selected vineyards in St. Michael and Eppan/Berg (450 – 600 m), at the foot of the Mendel Massif, on limestone gravel soil.
Grape Variety: Sauvignon, Guyot trained, with a yield of 45 hl/ha.
Harvest and Wine-making: In 2016 grapes have been picked up from end September to early Octber; harvest and selection of grapes was by hand. The majority (90%) is fermented in steel tanks, inside which the wine is aged on the lees until the end of April. The remainder is fermented and aged in wood.
Alcoholic Content: 14,5 %
Serving Temperature: 10°C.
Suggested Food Pairing: It pairs well with fried fish such as ocean perch, sole or char on pepper cream or with full-flavored vegetable risotto.
Related Products