The Peposo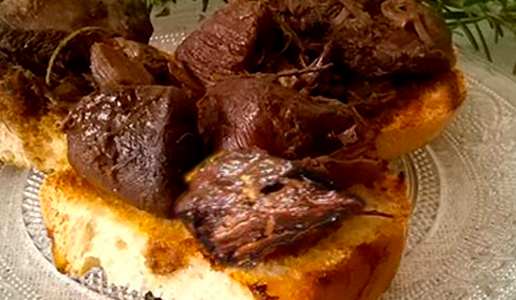 An ancient Tuscan recipe normally accompanied by a Chianti but here unusually paired with Vigna Sant'Angelo Montepulciano d'Abruzzo Colline Teramane DOCG Valori.
Ingredients for 4 people:
600gr stew meat. ½ liter red wine, 3 garlic cloves, salt as needed, 2 tablespoons peppercorns, ground black pepper as needed, 4 tablespoons extra-virgin olive oil (EVOO), 2 bay leaves (optional) and sliced bread to toast before serving.
Directions:
Cut the meat into pieces that are not too small and salt.
Place the meat in a container together with the garlic that has been crushed, the bay leaves (if you like their aroma), peppercorns and ground pepper. The quantity of the latter depends on personal preference but pepper is the essence of this recipe and so do not be stingy with it.
Cover everything with wine (it is always better to cook with the same wine served at the table) and let marinate for an hour.
Put the EVOO in a pot, preferably terracotta, and add the meat and its marinade. Cover and cook at a low heat for at least three hours (if you use a terracotta pot remember to use a flame spreader).
If after cooking the stew it is too watery or not dense enough, then remove the meat and reduce the sauce for a few minutes at a high heat. Put the meat back in once the sauce is reduced.
Serve hot accompanied by toasted bread.
Peposo is a typical stew of Impruneta, a suburb of Florence, and there are various versions of it also using tomatoes, carrots and celery. However, it was being made even before tomatoes were introduced to Europe and so we prefer this 'white' version.
Wine to pair:
Vigna Sant'Angelo Montepulciano d'Abruzzo Colline Teramane Docg Valori

A limpid, ruby-red color with garnet reflections and a bouquet of floral and spice aromas together with notes of ripe, red fruit and a nuance of vanilla. The mouthfeel is intense, complex and broad.
Area of production: Sant'Omero in the province of Teramo. The vineyards are situated at an altitude of 280m above sea level.
Varietals: 100% Montepulciano from 40-year-old, modified cordone-trained, spur-pruned vines with a density of 6,000 vines per hectare.
Production: Harvest is in the first week of October, fermentation takes place in stainless steel vats with long maceration. The wine matures in new barriques for one year and then ages for at least a year in the bottle.
Alcohol content: 14.5%
Serving temperature: 16-17°C.
Suggested pairing: grilled meat, roast lamb and heavy second courses.
Related Products