Tagliolini pasta with a burnt tomatoes, pecorino and mint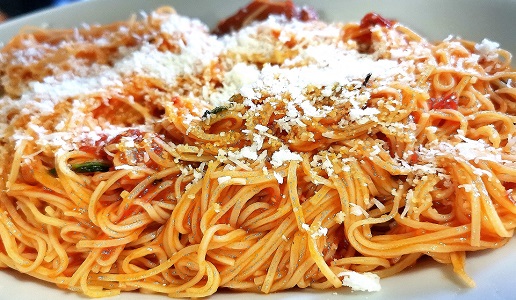 This simple and very tasty recipe of from the Michelin star Chef Salvatore Tassa, the proprietor of the Colline Ciociare restaurant and the Nù Trattoria Italiana dal 1960, both in Acuto, in the province of Frosinone. We pair this with the Greco di Calabria di Statti.
Ingredients for 4 people:
300g of tagliolini pasta, 400g ripe vine tomatoes, a sprig of thyme and one of marjoram, two garlic cloves, oil as needed, sugar as needed, a sprig of mint and two large tablespoons of grated pecorino Romano cheese.
Directions:
Wash the tomatoes and cut them in two, remove the seeds and eliminate excess water. Place the tomatoes face up on a pan lined with baking paper. Season them with salt, a sprinkling of sugar, finely chopped garlic, thyme and marjoram and a trickle of oil sufficient to caramelize the tomatoes.
Bake the tomatoes at 190°C until the edges of the tomatoes are slightly burnt (do not burn them and ensure the center remains red).
Cook the pasta in abundant salted water.
In the meantime, sauté a clove of garlic in a pan with a trickle of oil and add in the tomatoes and fry them slightly, adding in some of the pasta water to create a creamy sauce.
Drain the pasta and add it to the pan with the sauce and delicately mix together with a spoon and fork. Add in some fresh mint leaves and continue to mix until the mint releases its aromas.
Remove the pasta from the heat and sprinkle some pecorino cheese on each plate when serving.

Vino in abbinamento:
Calabria Greco Statti
Straw yellow color. Intense aromas of apricot, peach, melon and mimosa flowers. Fresh and agile taste with a very good acidity and freshness that make the wine smooth and pleasant. Fresh notes of fruits in the finish.
Production area: a great estate owned by Baroni Statti until 1700, 500 hectares in total in the area of Lamezia Terme.
Grape veriety: 100% Greco. Vineyards are espalier trained and the training method is the cordon spur one.
Wine-making: Soft pressing of the grapes, with fermentation in stainless steel tanks at a controlled temperature (16-18 °C). Ageing in stainless steel tanks until bottling.
Serving temperature: 10-12°C.
Related Products