Stuffed veal thigh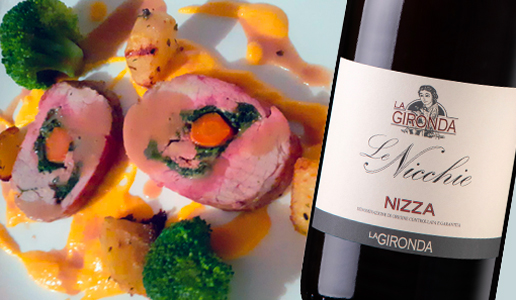 This is filled with spinach, carrots and foie-gras de Canard confit and served with a pumpkin squash and turmeric sauce. The recipe is from Chef Matteo Guidici. For the pairing we have selected a Nizza DOCG Le NIcche 2016 La Gironda.
Ingredients for 6 people:
One 800g veal thigh, 2 medium-sized boiled carrots, 200g of spinach sautéed with a knob of butter, 200g emmental cheese, 200g foie-gras de Canard confit, salt and pepper as desired and some fresh thyme leaves.
For the pumpkin squash sauce: 300g pumpkin squash, 50g butter, 1 small white onion, a teaspoon turmeric, 1 small potato, vegetable broth, salt and pepper as desired.
For plate presentation: boiled broccoli.
Directions:
Slice open the veal thigh sideways (you can have the butcher do it directly), place some parchment paper over the meat and flatten it slightly with a meat tenderizer. Season with salt, pepper and some fresh thyme.
Fill the inside with the sautéed spinach, emmental, the boiled carrots and foie-gras. Close the thigh has you would a roast using kitchen twine. Wrap the meat in parchment paper twisting the ends candy-drop style.
Bake for around 50 minutes in an oven pre-heated to 170°C (if you do not have a steam oven you can put in a small pot of water that will create the same effect). Use a meat thermometer to make sure the veal reaches an interior temperature of around 70°C. At this point, remove the paper and continue to bake the veal for another 10 minutes, raising the temperature to ensure it has a nice, brown exterior.
For the pumpkin squash sauce: put everything into a pot, the butter, onion and potato cut julienne-style and stew well. Add in the pumpkin squash, which has been cut into cubes, the vegetable broth, salt and pepper to taste and add the turmeric. Cook until the squash is completely soft then blend with an immersion mixer and filter to obtain a smooth sauce.
Once the roast veal is done, cut it into slices and place them on a plate on top of the pumpkin squash sauce and serve with some boiled broccoli.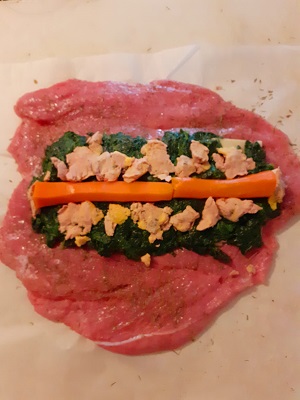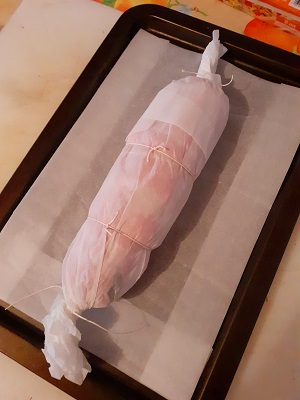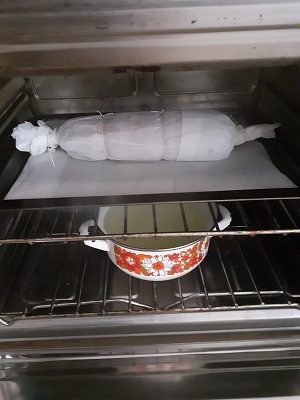 Wine to pair:
(edited by Stefania Vinciguerra)
Nizza Le Nicchie 2016 La Gironda
Light violet ruby red color. Aromas of sweet spices, clear and delicate note of blood orange, raspberries and violets. Very attractive taste, thick body and balanced acidity. Intriguing savory notes sustain the elegant progression. Flavorful and balanced finish.
Production area: the older and best-exposed hilly vineyards located in the municipality of Nizza Monferrato Località Bricco at an altitude of 260 metres a.s.l. Exposure: south-southwest, type of soil: sandy marls and clay.
Grape vatiery: Barbera, density 5,000 plants/ha and average yield 40 hl/ha.
Harvest: the completely ripe grapes were picked in the middle of October 2016 and placed in crates weighing 18 Kg each.
Vinification: Pied de cuve is done the day before harvest to activate the fermentation, using autochthonous yeasts produced from Barbera grapes. Destalking and soft pressing of grapes. Fermentation in stainless-steel temperature-controlled vats at a temperature of 28-30°C for 10 days. The wine is drawn off and the first decanting occurs 15 days afterwards. After the second decanting, the wine is stored in stainless-steel vats, where the malolactic fermentation takes place. The wine stays in stainless-steel vats for a while and then it ages for 12 months in French barriques and tonneaux and partly in 15 hl casks for at least 12 months. After bottling the wine remains in the cellar for at least another 12 months. It is put on sale minimum 3 years after the harvest.
Alcohol content: 15.50% vol.
Serving temperature: 16-18°C.
Suggested food pairings: rich and succulent first courses, important main courses of red meat roasts, pepper fillet, mixed boiled or braised meat, lamb, wild fowl and game. Well-matured cheese or more prestigious steaks, such as Fassona, a nice juicy T-Bone, or delicious braised "Bue Grasso" (fattened ox meat) typical of Nizza.
Related Products