Stuffed veal roast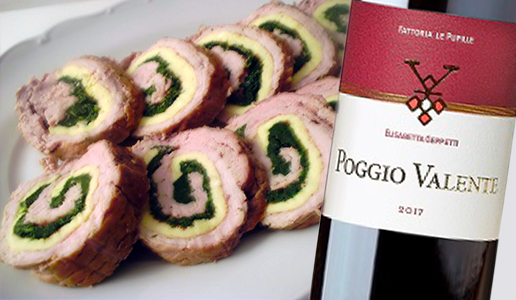 A fairly easy to make and impressive dish that we pair with a Poggio Valente 2017 Fattoria Le Pupille
Ingredients for 6 people:
A large, around 1kg, slice of veal rump, 700g spinach, 100g of thinly sliced cooked ham (or bacon), 2 eggs, 2 handfuls of grated grana cheese, 80g butter, 1 tablespoon extra-virgin olive oil, ½ glass white wine, salt and pepper.
Directions:
Clean and wash the spinach then cook it only with the water remaining on the leaves. Drain and squeeze-dry by hand then break into large pieces. Melt in a nice knob of butter then remove from the heat and season with salt and pepper and a handful of grated grana.
Break the eggs into a bowl and beat them with some salt and pepper and a handful of grated grana. Use this to make two, thin omelets.
Spread the veal out on a board and flatten it slightly with a meat tenderizer so it has a more uniform thickness. Cover the meat first with slices of ham, place the omelets on top of this and then spread out the spinach leaving free a two-finger border.
Roll up the meat and sew it up firmly with a big needle and kitchen twine.
Heat the EVOO and butter in a pan and braze the roast on all sides, continually turning it to ensure it has a uniform color. Season with salt and pepper and pour over the wine and let it evaporate. Cover the pan tight, lower the heat and continue to cook for a good hour, turning the roast every once in a while, adding in a half ladle of broth or hot water if needed to keep it moist.
Let the roast sit for 30 minutes after its done before cutting it into fairly thick pieces.
Place the meat slices on a platter and top them with the juice from the pan.
This is also excellent cold.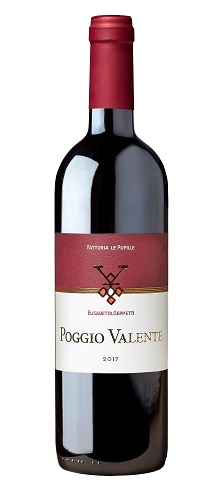 Wine to pair:
(edited by Stefania Vinciguerra)
Poggio Valente Toscana Rosso 2017 Fattoria Le Pupille
Slightly pale ruby color. Intense and multi-layered notes of summer undergrowth, bark, elegant spice, with subtle red fruit scent. An austere and intriguing wine: full-bodied with a good depth, wonderful tannins leading to a juicy, intense and very long finish.
Production area: Poggio Valente vineyard of 14 hectares in Pereta, Magliano in Toscana (Maremma) planted from the early 1970's for the oldest vines up to 2000's for the most recent ones. The altitude is 280 meters and the exposure is South-West. Hilly vineyard, with the superficial layer rich in sand and a layer of sandstone origin underneath which gives balance and a silky texture to the wine tannins.
Grape variety: 100% Sangiovese. Cultivation system: spur pruned cordon; planting density: 4500 vines/ha; grape yield/hectare: 7 tons.
Harvest: mid-September.
Vinification: fermentation in stainless steel at a controlled temperature of 26°C, maceration time 25 days, maturation 18 months in 500 L and 600 L tonneaux.
Alcohol content: 14,00% vol.
Related Products