Stuffed squids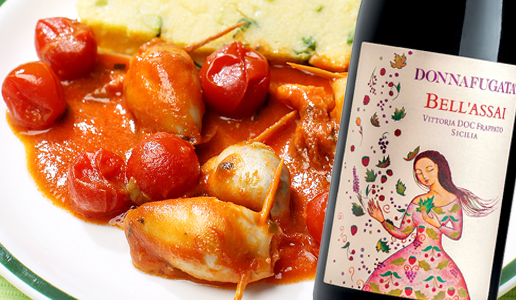 Very rich in taste, this dish excels when paired with fresh and fruity reds, like Bell'Assai 2018 Frappato Vittoria DOC Donnafugata.
Recipe from La cucina di Pantelleria- Tradizione e innovazione (Grazia Cucci- Gianni Busetta)
Ingredients for 4 serves:
1 kg (2.2 lbs) squid, 200 gr (6 2/3 oz) peeled tomatoes, 2 cloves garlic, 3 tablespoons extra-virgin olive oil, 20 pitted black olives, 50 gr (1 2/3 oz) raisins, 50 gr (1 2/3 oz) pine nuts, 50 gr (1 2/3 oz) grated pecorino cheese, 100 gr (3 1/ 3 oz) grated breadcrumbs, 1 egg, 2 tablespoons Pantelleria capers, 1 sprig parsley, oregano to taste, salt and black pepper to taste.
Directions:
Rinse and gut the squid, keeping the heads. Sauté 2 cloves of garlic in 3 tablespoons of olive oil. Add the finely chopped tentacles and heads and quickly sauté.
Remove from the heat and complete the mixture with the grated breadcrumbs, black pepper to taste, minced capers and olives, raisins, pine nuts, grated pecorino and raw egg. Amalgamate the mixture and stuff the calamari with it.
Place them in a pan greased with oil and sprinkled with grated breadcrumbs. Add the tomato pulp, a pinch of oregano, salt, pepper and a drizzle of olive oil.
Cover and cook for about 30 minutes and serve warm.

Wine to pair:
(edited by Stefania Vinciguerra)
Vittoria Frappato Doc Bell'Assai 2018 Donnafugata
Light ruby red color with purple glow. Rich and attractive aromas with fruity notes of raspberry and dragon blood plums, floral of roses and a slight spice of green pepper. Fresh and pleasant drinkability, good acidity and very savory finish.
Production area: south-east Sicily, in the DOC Vittoria area in the territory of Acate between the Ibleo plateau and the sea. The altitude of the vineyards is 120-150 meters a.s.l.; gently sloping terrains; soils tending towards sandy interspersed with a substratum of calcareous tuff and medium-textured soils. The climate is typically Mediterranean, warm temperate, mitigated by a sea breeze during the summer, as well as by a wide variation between day and night temperatures.
Grape variety: 100% Frappato. VSP (Vertical Shoot Positioning) training with spurred cordon pruning. Planting density 4,000-4,500 plants per hectare (1,619 - 1,822 an acre); yields of 7-8 tons/hectare (2.8 - 3.2 t/acre).
Harvest: harvest time was chosen with extreme care, thus some Frappato vineyards were harvested between September 10 and 12 and others between 17 and 23.
Winemaking: fermentation in stainless steel with maceration on the skins for about 8-9 days at a temperature of 24-25°C (75,2- 77°F). After malolactic fermentation, aging in tank for 4 months and then in bottle for at least 3 months.
Alcoholic content: 12.70% vol.
Serving temperature: 15-16°C°
Suggested food pairing: perfect to sip from a glass, it accompanies grilled vegetables, salumi and tasty fish dishes such as soups. Also excellent with tuna sushi.
Lasting period: 3-4 years.
Related Products