Stuffed meatloaf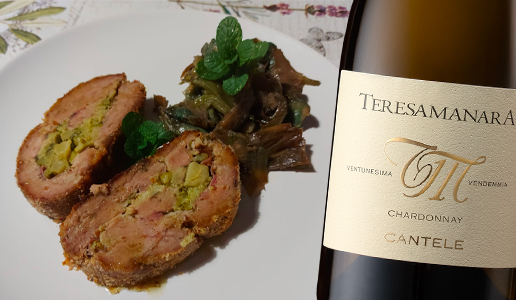 The stuffing is composed of baked ham and artichokes with wild mint and we dare to pair it with a Salento Chardonnay Teresa Manara 2020 Cantele.
Ingredients for 6 people:
1kg ground beef, 3 slices of stale bread, 2 eggs, 3 tablespoons Parmigiano Reggiano, 2 tablespoons extra-virgin olive oil, nutmeg, 1 finely chopped garlic clove, breadcrumbs as needed, salt as needed, 8 fairly thick slices of baked or boiled ham, 6 cleaned artichokes, 1 organic lemon, 1 garlic clove, 1 tablespoon chopped wild mint and ½ glass dry white wine.
Directions:
Put the meat in a mixing bowl along with the bread that has been previously soaked and squeeze-dried, 2 tablespoons EVOO, the Parmigiano Reggiano, the whole eggs, chopped garlic and nutmeg and salt to taste. Mix everything together then wrap in plastic and keep in the refrigerator.
Slice the artichokes and place the slices in ice water with some lemon. Using a broad pan, delicately sauté the garlic that has been cut in half. Add the drained artichokes and stir cook for a few minutes before dousing them with the wine, add ½ glass of water and continue cooking until the artichokes are soft. Add the wild mint, salt to taste, remove from the heat and let cool.
Spread out some parchment paper, put the meat mixture on top and spread it out with your hand. Place the ham slices on top with around 1/3 of the cold artichokes at the center.
Roll up the loaf using the parchment paper and close the side and ends well. Cover the surface with breadcrumbs and check to make sure the loaf is well-sealed.
Place the loaf in an oiled baking pan and bake for around 40 minutes in an oven pre-heated to 180-200°C allowing the meatloaf to brown on the outside.
Let the meatloaf cool somewhat before cutting it into fairly thick slices.
Serve with the remaining artichokes that were sautéed with the wild mint.

Wine to pair:
(edited by Stefania Vinciguerra)
Salento Chardonnay Teresa Manara 2020 Cantele
Brilliant golden yellow color. Elegant and very delicate aromas of yellow flowers, citrus and spices with a final hint of sage. Balanced and very good taste, evident fruity notes with great finesse and elegant progression.
Production area: Guagnano, in the province of Lecce.
Grape varieties: 100% Chardonnay. Training system: Guyot (5.000 vines per hectare).
Harvest: Second half of August
Vinification: After being crushed and gently pressed, the must is cooled to 10°C. in order to facilitate natural fining. The first part of alcoholic fermentation is carried out in stainless-steel vats with temperatures kept below 15°C. The must, still fermenting, is then transferred to barriques where fermentation is completed. The wine is then aged in French oak barriques on its lees for approximately 6 months.
Serving temperature: 12-14°C.
Average shelf price: € 14.00