Squid ink tagliatelle on a sunchoke mash bed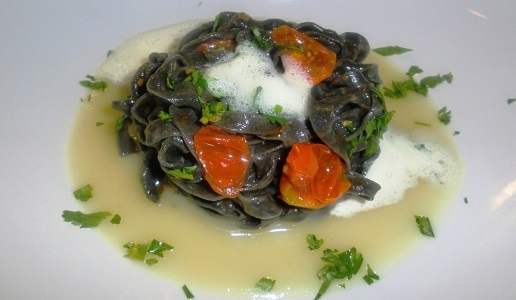 An original recipe for a first course of fresh pasta that we pair to Verdicchio dei Castelli di Jesi Classico Superiore Casal di Serra Vecchie Vigne 2016 Umani Ronchi.
Ingredients for four people:
200g white flour, 10g rice flour, 150g warm water, 1 package of squid ink, 1 tablespoon of extra-virgin olive oil, salt.
For the sauce: 15 cherry tomatoes, 1 garlic clove, 1 anchovy, chili pepper, 4 medium-sized sunchokes (Jerusalem artichokes), reduced fish broth or hot water (as needed), extra-virgin olive oil, salt, chopped parsley.
For lemon froth (optional): juice of one lemon, 30g water, 4gr soya lecithin, pinch of salt
Directions:
To make the tagliatella, mix and sift the flours and then create a mound at the center of which place the water, squid ink, olive oil and a pinch of salt. Mix everything together first with a fork and then using your hands until the pasta dough is homogenous and smooth. Cover with a bowl and let stand for 30 minutes.
Spread the dough out thin with a rolling pin and then cut tagliatelle that are one centimeter wide.
Put two tablespoons of oil into a pan and sauté a garlic clove along with an anchovy, which must dissolve. Add the tomatoes that have been cut in half and cook on a high flame for a few minutes, adding a ladle of the boiled pasta water at the end if needed.
Peel the sunchokes and cut into thin slices so they can cook quicker. Brown a garlic clove in a pan with olive oil and then remove it before adding the slices. Cook until soft adding the fish broth or hot water if necessary. Place everything in a mixer and blend, slowly adding olive oil and, if desired, the reduced broth. Strain to make sure it is a creamy and velvety mash.
While boiling the pasta prepare the lemon froth by mixing the lemon juice with room-temperature water and the soya lecithin and whip with an immersion blender until it foams up.
When cooked drain the pasta and mix it with the tomato sauce.
Serve by first spreading out the sunchoke mash on the bottom of a flat dish and then place the tagliatelle on top, adding two teaspoons of the lemon froth (if desired) and topping with chopped parsley.

Wine to pair:
Verdicchio dei Castelli di Jesi Classico Superiore Casal di Serra Vecchie Vigne 2016 Umani Ronchi
Intense greenish straw yellow color. Complex aromas of hydrocarbon, medical herbs, hints of grapefruits and wildflowers. Rich taste, savory, agile and warm, very tense and good body. Great persistent finish.
Production area: the Castelli di Jesi, nelle Marche, in old vineyards in Montecarotto farm. The vineyards are more than forty five years old and trained on the "doppio capovolto" system. They are situated at about 250‐300 meters above sea level, on a hillside facing east. The soil is very deep, clay loam, fairly fresh, and represents the ideal for a vine such as Verdicchio.
Grape variety: 100% Verdicchio. The particular position of the old vines and the fine balance between fruit and leaf growth means that the grapes can be harvested when they have reached a perfect ripening status. The yield per hectare is between 6 and 7 tons.
Wine-making: the grapes are picked by hand, and collected in boxes. The harvest takes place on the borderline between the end of September, first ten days of October, when the grapes have reached a perfect ripening status. After a light pressing, the prime must is rapidly cooled and then goes through static decantation. Fermentation, in steel tanks with the temperature maintained at between 16o and 18°C, takes 10‐15 days. The wine does not undergo a malolactic fermentation, in order to preserve freshness and acidity. The ageing stage lasts about ten months, during which the wine remains in contact with its own fermentation yeasts in concrete tanks. Vecchie Vigne rests 6 months in bottle before being put on sale.
Serving temperature: 12-14°C.
Suggested food pairing: roast white meat, roasted fish, stuffed pasta.
Related Products