Spaghetti with tomato confit and sea bream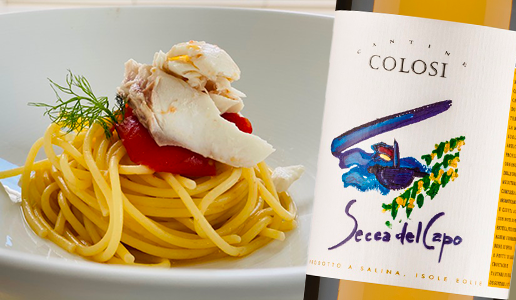 One of the possible versions of this classic seafood recipe that we pair with a Secca del Capo Salina 2019 Cantine Colosi.
Ingredients for 4 people:
370g spaghetti, 200g cherry tomatoes, some 250g sea bream, salt, chili pepper, wild fennel as desired, 50g extra-virgin olive oil, ½ glass white wine (preferably the one pairing) and 1 garlic clove.
Directions:
Place the sea bream, which has been cleaned, gutted and scaled, in a baking pan. Add the EVOO, chopped garlic, chili pepper, salt and wine. Bake for 20 minutes at 180°C.
In the meantime, cut the tomatoes in half and put them in a pan with a trickle of EVOO, a teaspoon of sugar and salt. Cook at a medium heat for 5 minutes.
Boil the spaghetti in salted water and them mix them with the juice of the fish, the tomatoes and their sauce.
Garnish with fresh wild fennel and serve the pasta with the seam bream fillets on top.
Wine to pair:
(edited by Stefania Vinciguerra)
Secca del Capo Salina 2019 Cantine Colosi
A straw yellow Malvasia with golden highlights. only. Clean and intense aromas of rose petals, yellow fruits, citrusy notes and Mediterranean scrub. Fresh and intense sip, well structured and persistent.
Production area: the island of Salina, in the best vineyards in Capo Faro and Porri.
Grape variety: 100% Malvasia, trained in "alberello" (goblet) system, on volcanic soil.
Harvest: end of august beginning of September.
Wine making: the grapes are pressed gently immediately after harvest and set for alcoholic fermentation with light skin contact for 4-5 days. After the racking the fermentation continues until the completion processing of almost all the residual sugar. Ageing is in steel vats at controlled temperature of 14-16°c.
Alcohol content: 13,5%vol.
Serving temperature: 10°C. (59°F.)
Suggested food pairing: seafood, shellfish and sushi.
Related Products