Spaghetti with fresh, small tomatoes and 'nduja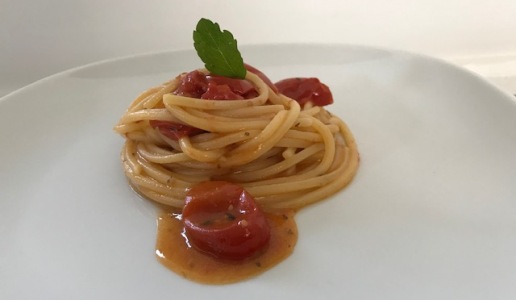 A very simple and quick recipe with a Calabrian twist. We suggest an "heretical" pairing with an Alto Adige Bianco DOC Amos Cantina Kellerei Kurtasch.
What makes this dish distinct is the addition of the spicy hot and spreadable Calabrian spreadable salami 'nduja made with pork and chili pepper that is used in Calabria to make dishes more flavorful and spicy.
Ingredients for 4 people:
350g bronze wire-draw spaghetti, 4 tablespoons extra-virgin olive oil, 350 of fresh, small tomatoes, a garlic clove, around 40g 'nduja and salt as needed.
Directions:
Boil a full pot of salted water.
Remove the encasing of the 'nduja and mash the insides with a fork to make it soft. Warm it in a pan with the EVOO and garlic clove. When it begins to fry add in the tomatoes that have been cut in half and then cook at a low heat and salt to taste.
Boil the spaghetti until it is "al dente" (semi-cooked).
Drain the pasta and finish cooking it the pan with the sauce, adding a few ladles of the pasta water to keep it from drying out. Mix well and serve with a mint or basil leaves.

Wine to pair:
(edited by Stefania Vinciguerra)
Amos Alto Adige Bianco doc Cantina Kellerei Kurtatsch
Pale straw yellow color. The Burgundy varieties form the solid, compact backbone. The aromatic accompaniment comes from the aromatic varieties influence that confers an exotic, fruity finale reminiscent of white peach, litchi, orange blossom and a hint of cinnamon stick.
Production area: the highest and most expressive vineyard locations of Kurtatsch. The Burgundy varieties (Pinot Blanc, Chardonnay and Pinot Grigio) grow on exposed hills between 600 and 700 meters in altitudine. The warm, calcareous, gravelly soils guarantee perfect physiological ripeness of the grapes. The aromatic varieties (Kerner, Sauvignon and Müller Thurgau) thrive at 800 to 900 meters above sea level. Their long vegetation period allows for a singular concentration of valuable aromas. The limestone soil of these sunny terraces protected from the north wind is gravelly to sandy with a small share of loam.
Grape varieties: Chardonnay, Pinot Bianco and Pinot Grigio (70%) with 30% of Kerner, Sauvignon and Müller Thurgau.
Wine-making: controlled temperature fermentation of the must in stainless steel tanks, 14 months on the fine lees in large wooden barrels and at least 3 months bottle ageing.
Alcoholic content: 14% vol.
Serving temperature: 10°C.
THIS RECIPE IS OFFERD BY CANTINA CORTACCIA/KELLEREI KURTATSCH
Related Products