Smoked salmon with raspberry vinegar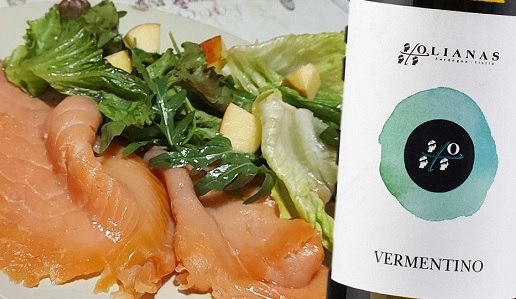 A very quick and fresh dish that is perfect for the summer and which we pair with a Vermentino di Sardegna 2021 Olianas.
This works well as a meal by the sea, on a boat or on the beach, or for those who have remained at home and want to feel as if they are on vacation.
Ingredients for 4 people:
600g slice Scottish smoked salmon, 200g iceberg lettuce, 200g wild arugula, 1 Fuji apple, 40g toasted sesame seeds, raspberry vinegar as desired, extra-virgin olive oil as needed.
Directions:
Wash and dry well the arugula and iceberg lettuce.
Wash the Fuji apple and cut it into cubes with the skin.
Place the lettuce, arugula and apple cubes into a large bowl and season with salt, EVOO and as much raspberry vinegar as desired. Mix delicately.
Place two slices of smoked salmon on each plate alongside some of the salad and then sprinkle some sesame seeds on top.
Season the salmon with a few drops of raspberry vinegar.

Wine to pair:
(edited by Stefania Vinciguerra)
Vermentino di Sardegna 2021 Olianas
Straw yellow color. Intense notes of pink grapefruit and lemon, with hints of spice and bread crust. The mouthfeel is refreshing and quite rounded, with a very pleasant finish.
Production area: in the heart of Salcidano, in Gergei, two vineyards: the Murvonis and the Porruddu. The first rises on deep, fertile soils with a clay loam texture that allows for the wine's freshness and elegance. The second has a dark brown loam texture soil with sandy marl conglomerates and bring complexity and structure to the wine.
Grape variety: Vermentino 100%, Guyot training system with a density of 5600 plants per hectare and a production of 1.5 Kg of grapes per stump.
Harvest: manual, within the first ten days of September.
Vinification: about 20% of the grapes are harvested slightly in advance and allowed to ferment with maceration on the skins. This takes place in steel tanks, in compliance with the BioIntegrale method, hence without adding selected. This small mass is used as pied de cuve, and activates spontaneous fermentation. The rest of the grapes are destemmed, soft pressed and fermented in steel at 14°C-16° C. Aging is 70% in steel, 30% in Tonneaux for 5 months.
Serving temperature: 6-8°C.
Suggested food pairings: perfect as an aperitif, it goes well with fish dishes, even very aromatic ones, and moderately mature cheeses.
Related Products