Small potato gnocchi with the scent of the sea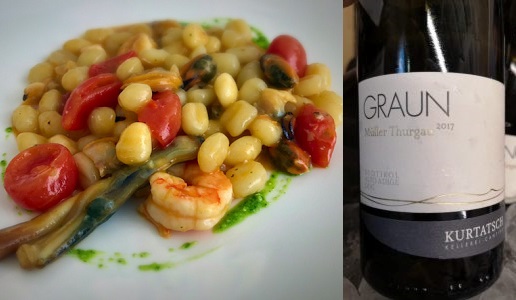 A sauce of shrimp, razor clams and mussels for small, homemade gnocchi to pair with an Alto Adige Müller Thurgau Doc Graun 2017 Kellerei Kurtatsch.
Ingredients for 4 people:
For the small gnocchi: 80g mealy potatoes, white flour as needed (some 150g), 40g potato starch, 1 egg and salt.
For the sauce: 200g shrimp, 200g razor clams, 100g mussels, 100g small tomatoes, half glass white wine, parsley, chili pepper as desired, garlic, salt and extra-virgin olive oil.
Directions:
Boil the potatoes in abundant salted water. Once cooked, remove the potatoes and peel and the mash them before spreading them out on a pasty board. When they are cold, knead them with the egg, salt and potato starch, adding flour little by little until getting the desired consistency (the amount of flour varies with the amount of potatoes).
Roll the potato mash into small cylinders and cut them into small gnocchi. Spread them out on a tray covered with durum flour.
Clean the shrimp by removing the heads and shells. Sauté the shellfish in the white wine until they open. Filter the liquid and keep to the side.
Sauté the garlic and chili in a pan and then add in the tomatoes, the clams and mussels that have had the shells removed, parsley and the liquid that was kept aside. Cook for around 10 minutes.
Add a little oil to a large pot of boiling water and cook the gnocchi, removing them with a skimmer when the rise to the top and them put them in the sauce for a little bit.
Serve with a tickle of parsley pesto.

Wine to pair:
(edited by Stefania Vinciguerra)
Alto Adige Müller Thurgau Doc Graun 2017 Cantina Kellerei Kurtatsch
Light straw yellow color with greenish hues. Intense floral and fruity notes of lilacs and yellow plum together with fresh aromas of peppermint and mountain herbs. Fresh and fruity to the palate, the delicately sweet fruit glaze (apricots, white peaches, summer apples) carries a pleasant and juicy finish.
Production Aera: Kurtatsch, in the South area of South Tyrol, from the vineyard called Graun, Corona district, at 800-900 meters above sea level.
Grape variety: Müller Thurgau (a cross between Riesling and Madeleine Royal, 1882, in Geisenheim), with a yeald of 8 t/ha.
Wine-making: temperature-controlled fermentation in stainless-steel tanks, with subsequent development on the lees. Some months of bottle ageing.
Alcoholic Content: 13% vol.
Serving Temperature: 6-8°C.
Related Products