Sirloin steak with a pink peppercorn sauce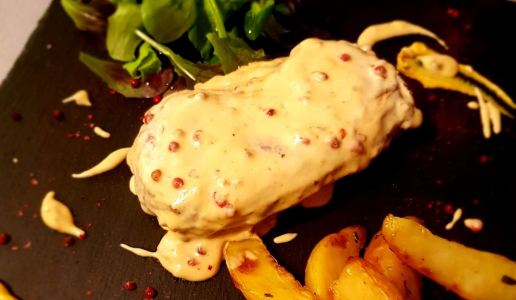 This is a variation of the classic fillet with a green peppercorn sauce.
Schinus, commonly known as pink peppercorn or fake pepper, is a berry from a shrub native to the plateaus of Bolivia, Peru and Chile that grows to a height of six to seven meters. It is a valid alternative for those who have an intolerance to black pepper because while it has a similar aroma it is not of the same family as Piper Nigrum.
We suggest it be paired with a Fontalloro Fèlsina.
Ingredients for 4 people:
4 beef sirloin steaks of 250g each, 1 tablespoon mustard, 300ml cream, pink peppercorns as needed, salt as needed, 1 ladle of beef broth or hot water, roast potatoes with rosemary and salad.
Directions:
Rub the steaks with some extra-virgin olive oil and then vacuum-seal them in a plastic bag and cook them in a thermostatic oven at 56°C for two hours. Once cooked remove the steaks, dry them with a paper towel and sear them in a non-stick pan with a tablespoon of EVOO, two minutes a side.
If you do not have a thermostatic oven or a machine to vacuum seal in plastic you can rub both sides of the steaks and fry them on a hot pan as desired.
Remove the meat from the pan, salt the steaks to taste and let them sit. In the meantime deglaze the pan with a ladle of beef broth or hot water, add the cream, mustard and pink peppercorns. Reduce the sauce for a 1-2 minutes and make sure it amalgamates. Put the steaks in the sauce and let them cook in it for a couple of minutes while continually spooning some sauce on top.
Serve on pre-heated plates with salad and roast potatoes with rosemary.
Wine to pair:
(edited by)
Fontalloro Fèlsina
Ruby red color with rich and intense tones. Complex to the nose with generous notes of tobacco and wet earth (dry earth, as well), blackcurrant and licorice. The palate has good consistency of medium-smooth tannins to ensure the lengthy ageing. Rich structure and weight and elegant breed on the finish. Optimum cellar life in all vintages. First vintage produced 1983
Production area: Poderi Poggio al Sole and Arcidossino areas, with vineyards straddling the border between Chianti Classico and the Chianti Colli Senesi denomination. The vineyards lying within the Chianti Classico appellation are in the highest area of Fèlsina while those in the Chianti Colli Senesi are lower down (407-330 meters above sea level). With a southwestern exposure, the grapes are influenced by diverse soil compositions: on the Chianti Classico side the soil is stony and calcareous; on the Crete Senesi side the soil is sandy, loamy and silty with pebbles and marine sediments.
Grape variety: 100% Sangiovese with vineyard density of about 5.400 vines per hectare and bilateral cordon training system.
Wine-making: Hand harvest in two phases, selecting the finest grapes. After the quality-selected clusters are de-stemmed and pressed, the must is fermented and macerated in stainless steel for 16-20 days at 28°C and 30°C, with programmed punchdowns and daily pumpovers. In March-April, the new wine goes into new and into first used French oak barrels; after 18-22 months of maturation, the final blend is assembled, bottled, and ages in glass a minimum of 8-12 months.
Serving Temperature: 18°C