Shrimp with herbs on a burrata cream sauce with grated lemon peel on top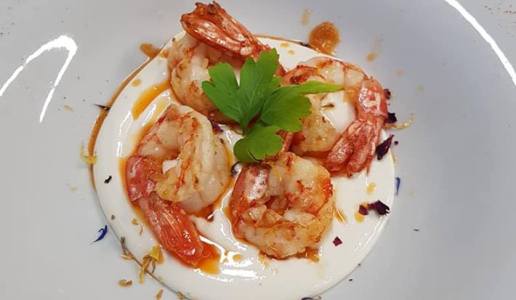 The sweetness of the shrimp and the fattiness of the burrata cheese and cream pair well with a structured and aromatic Rottensteiner Gewürztraminer Cancenai Alto Adige DOC.
Ingredients for four people:
16 large Argentinian shrimp, 400g burrata soft cheese, 200g fresh cream, salt, 1 rosemary sprig, sage, thyme, 2 tablespoons coarse salt, 2 tablespoons extra-virgin olive oil and a grated lemon peel.
Directions:
First clean the shrimp by removing the shell and leaving only the very tip of the tail for decoration. Remove the dark thread intestine.
For the burrata cream sauce: warm the cream to 40°C and then blend it in a mixer with the burrata together with a pinch of salt. Sieve and keep aside in a sac a poche.
Prepare the salted herbs by blending the coarse salt with the aromatic herbs.
Season the shrimp in a large bowl with the salted herbs and two tablespoons of EVOO and let sit for a few minutes. Heat up a non-stick pan with a trickle of EVOO and sear the shrimp a minute on each side.
Spread out the burrata cream sauce on four flat plates and place the shrimp on top with a little of the juice from frying and then grate some lemon peel on top.

Wine to pair:
(by Stefania Vinciguerra)
Alto Adige Gewürztraminer 2017 Cancenai Rottensteiner
The Gewürztraminer is one of the wines that made famous the wine region of South Tyrol throughout Italy. This thanks to the extreme aromaticity and exciting structure. The Cancenai has a golden yellow color, with notes of roses, cloves and honey to the nose; good structure, an understated sweet component and a notable length to the palate.
Production Area: The vineyard is in Termeno (Tramin), the hometown of the variety, on a slope with a South-West exposure and a calcareous soil.
Grape Variety: Gewürztraminer (100%), Guyot trained.
Wine-making: The grapes are pressed very slowly and carefully to let the wine remain in contact with the lees as long as possible, in order to allow all the strength of the grapes to pass into the wine. Stainless steel only.
Serving Temperature: 15-18°C.
Alcoholic Content: 14,1 % vol.
Suggested Food Pairing: This wine in not easy to pair, but it fits well with Asian cuisine with its spices and with strong cheese.