Sgavajone Fish Soup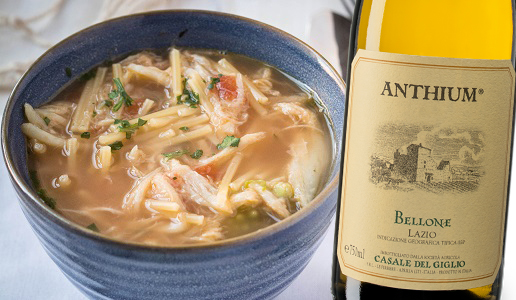 A typical fish soup from the fishermen of Anzio, near Rome, that we pair with Anthium, Bellone Lazio IGT 2018 Casale del Giglio.
The sgavajone is a local type of fish, similar to sea hens, used to make a family soup, rarely found outside the family home.
Ingredients for 4 people:
400 g. sgavajone fish, 100 g. spaghetti (roughly broken by hand), 3 lt. water, 2 cloves garlic, 100 g. fresh cherry tomatoes, 2 sprigs chopped parsley, finely chopped chilli if you like, salt and a little extra virgin olive oil.
Directions:
Boil the sgavajone fish for two hours.
Meanwhile, in a little olive oil, sauté the garlic, salt, finely chopped chilli pepper and cherry tomatoes until these are soft. Remove the garlic, sieve and set aside.
When the fish has broken down completely, set aside the flesh without bones and pass the rest through a chinois sieve taking care to crush the bones completely.
Mix the fish water with the tomato mixture, add the sgavajone fish pieces one at a time and boil.
Add the roughly broken spaghetti in the broth, when cooked garnish with the finely chopped parsley and serve.

Wine to pair:
(edited by Stefania Vinciguerra)
Anthium Bellone del Lazio 2018 Casale del Giglio
Light golden color with darker hues. On the nose ripe exotic fruit, such as mango, combined with fresher fruity notes of melon. Hints of white pepper and grapefruit. Ample and rich to the palate, with spicy flavors and floral nuances. Long briny finish.
Production area: a vineyard of more than 60 years near the coastal town of Anzio. The age of the vines, the direct influence of the sea, the marine soil, make this small area unique for the production of Bellone grape. A persistent sea breeze contributes to the perfect ripening of the grapes.
Grape variety: Bellone 100%. The composition of the soil in what is now a breezy vineyard near the coastal town of Anzio enabled it to resist the disastrous phylloxera epidemic of the late 19th century and to preserve the area's local ungrafted (free of rootstock) vines.
Harvest: takes place in late September.
Wine making: vinification takes place in two stages: first, maceration on the skins to encourage extraction of the aromas resulting from the terroir, then, after soft pressing, spontaneous fermentation with indigenous yeasts for around 10-12 days at 18-20°C
Alcohol content: 14% vol.
Serving temperature: 10°C.
Historical notes: Bellone's ancestor is believed to be the Uva Pantastica praised by Pliny the Elder in his Naturalis Historia and present in Italy's Latium region since Roman times. Today the grape is cultivated from the Alban to the Lepini hills and along the nearby seacoast.
Related Products