Seared salmerino with a smoked provola cheese sauce and artichokes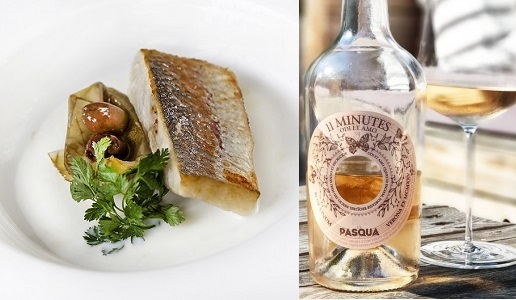 The flavor of this lake fish pairs well with an 11 Minutes 2018 Trevenezie IGT Pasqua Vigneti e Cantine rosé.
This recipe is from Andrea Costantini, the executive chef at the Regio Patio Restaurant at the Regina Adelaide Hotel in Garda, known for its contemporary Italian cuisine.
Ingredients for 4 people:
4 salmerino alpino (Arctic char) fillets of 140g each, 500g smoked provola cheese, 200g milk, 2 artichokes, taggiasche (cailletier) olives, extra virgin Garda olive oil and a bunch of assorted sprouts.
Directions:
Cut the smoked provola cheese into small cubes and melt them in milk bain-marie. Blend with a mixer, adjust the flavor if necessary and filter. Keep hot for later use.
Clean the artichokes, cut them in half and carve out the middle in order to stuff them with a few taggiasche olives. Sauté the artichokes in EVOO until they are semi-cooked (al dente).
Sear the salmerino fillets in a pan until both sides are crispy while the center remains juicy.
Spread some of the smoked provola sauce at the center of a plate, place an artichoke half on top and next to it a piece of fish.
Garnish with the sprouts and complete with a trickle of Garda EVOO on top.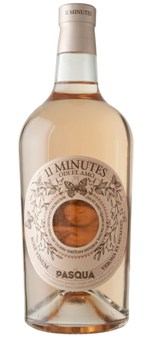 Wine to pair:
(edited by Stefania Vinciguerra)
11 Minutes 2018 Trevenezie Rosato Igt Pasqua Vigneti e Cantine
It is a fresh and enveloping rosé wine, with an intense and complex bouquet, rich in floral aromas from Corvina grape and fruity and spicy notes due to Syrah. On the palate it has a significant acidity, a good structure and length in the aftertaste.
Production area: vineyards on the Verona side of Lake Garda.
Grape varieties: blend of Corvina 50%, Turbiana (that is Trebbiano di Lugana) 25%, Syrah 15% and Carménère 10%.
Wine-making: in 11 minutes, the time of skin contact from which the wine takes its name, the noblest parts of the grapes are extracted as well as the slight pink tones that characterize this wine. Once the precious must is obtained, it is cooled and transferred to a steel tank where it remains for about 11 hours, the time needed for the more solid parts to decant. After transferring again, the must is inoculated with select yeast and alcoholic fermentation starts. Temperature range is maintained between 13° and 16°C. During fermentation the state of the yeasts in the wine and the entire metabolic process is monitored daily to ensure that is functioning at its best. Once the alcoholic fermentation is finished, the wine remains in contact with the fine lees for about 3-4 months, then filtered and bottled, to be released on the market in January following the harvest.
Alcoholic Content: 12.5% vol.
Serving Temperature: 10-12°C.
Suggested Food Pairing: it is ideal as an aperitif and as an accompaniment to delicate dishes.