Sea bream fillets with cherry tomatoes and a parsley sauce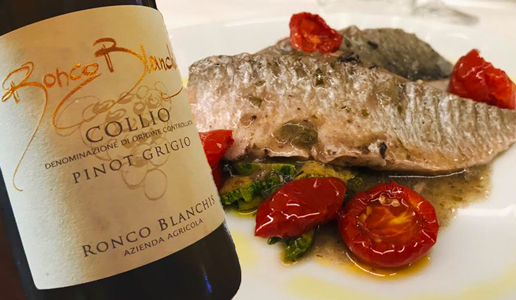 A classic dish enhanced with a parsley sauce. We pair it with a Collio Pinot Grigio 2018 Ronco Blanchis.
Ingredients for 4 people:
4 sea bream fillets, 200g cherry tomatoes, 2 garlic cloves, 1 glass white wine, 1 bunch of parsley, extra-virgin olive oil and sat as needed.
Directions:
Cut the tomatoes in half and chop half the parsley.
Pre-heat an oven to 200°C. Line a baking pan with parchment paper and place the fillets on top.
Add the tomatoes, a garlic clove that has been cut into pieces and the chopped parsley. Salt and douse with a generous trickle of EVOO.
Place the pan in the oven and bake for 10 minutes. Pour over the wine and then bake for another 15 minutes.
Blend the remaining parsley with the other garlic clove and a tablespoon of EOO. Spread a spoonful of the sauce on each plate and then place a fillet on each one and cover with the cooked tomatoes and juice.

Wine to pair:
(edited by Stefania Vinciguerra)
Collio Pinot Grigio 2018 Ronco Blanchis
Known worldwide as one of the classic Italian grape varieties, the Pinot Grigio finds a perfect terroir in the Collio appellation area. Straw yellow color with delicate copper hues. To the nose it has the typical, fine notes of this variety: scents of flint stone and pear. To the palate it is full and and has a fresh and long lasting aftertaste.
Production Area: the Blanchis hill (ronco) with clay and eocenic marl soil.
Grape Variety: 100% Pinot Grigio, growth system Guyot with 4830 vines per hectare.
Wine-making: harvest from 1st to 7th September with a yield of 9 tons per hectare. Vinification in stainless steel tanks with soft crushing of the whole grapes. Ageing 6 months in steel vats.
Alcoholic Content: 13,5% vol.
Serving Temperature: 10-12°C.
Suggested Food Pairing: starters and entrees in general soups, eggs, seafood.
Related Products