Savory anchovy pie with capers, olives and pine nuts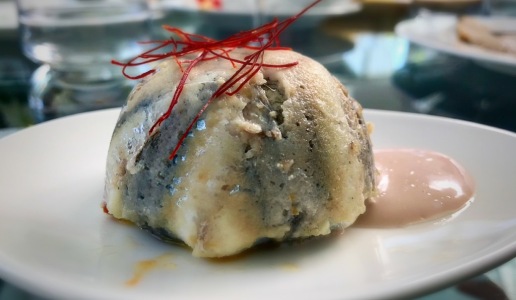 An impressive Mediterranean dish to serve lukewarm either as a starter or second course. Pair it with a Collio Bianco by Ronco Blanchis.
Ingredients for 4 people:
600g fresh and cleaned anchovies, 30g extra-virgin olive oil, 60g capers, 60h pitted black olives, bread without the crust as needed, lemon peel, salt as needed, chopped parsley, 1 teaspoon tomato purée and garlic as desired.
Directions:
Wash and dry the anchovies.
In a bowl mix together the olives that have been chopped, the garlic cut into small pieces, the parsley, capers and pine nuts together with some grated lemon peel and salt to taste. Mix in a generous amount of the bread.
Oil single-portion, glass molds and line them with anchovies that have been cut in half and opened lengthwise. Add in the filling and cover with more anchovies. Bake at 170°C for 20 minutes.
Serve with a light bread sauce made by blending oven-toasted bread together with the tomato purée.
Wine to pair:
(edited by Stefania Vinciguerra)
Collio Bianco Ronco Blanchis
This wine represents the essence of the Blanchis hill: a blend of Friulano and Chardonnay from the oldest vineyards, enriched by a balance of Sauvignon and Malvasia that enrich its aromas. Straw yellow color, with intense fruity and floral aromas. Full-bodied and espressive, with good elegance and length.
Production area: the hill (Ronco) of Blanchis in Collio - province of Gorizia - formed by grey and yellowish Eocene marls with few sandstones.
Grape varieties: 45% Friulano, 40% Chardonnay, 10% Sauvignon and 5% Malvasia, Guyot training system, with 4830 vines per hectare.
Wine-making: soft pressing of the whole grape, not destemmed, vinification in stainless steel tanks. The following refinement takes place in steel for Friulano, Malvasia and Sauvignon while the Chardonnay matures in new or second passage oak barrels. This is followed by a further refinement of the mass in stainless steel before bottling.
Alcoholic content: 14% Vol.
Serving temperature: 10-12°C.
Suggested food pairings: first courses of meat, fish and vegetables, second courses of white meat or fish with sauces.
Related Products