Sautéed onions with Granny Smith apple, Roccaverano Robiola cheese sauce and marinated mackerel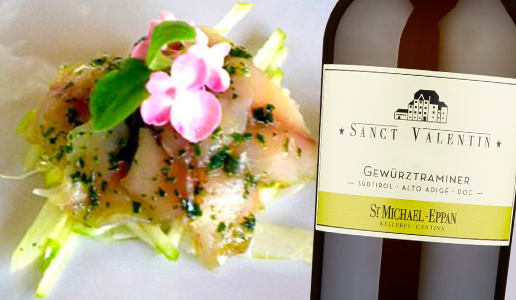 This recipe is from the star Chef Walter Ferretto of the Il Cascinalenuovo restaurant in Isola d'Asti (Asti). It is an intriguing and flavorful dish, as is the Alto Adige Gewürztraminer Sanct Valentin 2019 from San Michele Appiano that we suggest for pairing.
The chef tops this dish with a particular apple sorbet (always made with Granny Smith apples) which is not easy to prepare without the proper instruments. While it may not be perfect, you can also use a home-made green apple sorbet. It is not the same thing but it works.
Ingredients:
2 new onions,2 cleaned mackerel filets, 50g Roccaverano Robiola cheese, 1kg fine salt, the grated peels of 1 orange and 1 lemon, 1 green apple, 3dl water, 2dl white wine, 2dl white wine vinegar, 90g sugar, 2 cloves, 2 laurel leaves, 30g extra-virgin olive oil, 20g of chopped parsley, thyme and chives, salt and pepper.
For the apple sorbet:2 Granny Smith apples, 1dl water, 1 ½ pinch of salt and 10 drops of lemon.
Directions:
Mix the salt with the grated citrus peel and use this to cover the mackerel filets and marinate for 2 hours in the refrigerator.
Boil the onions for 5 minutes in salted water flavored with the white wine, vinegar, sugar, cloves and laurel leaves. Dry the onions and cut them into wedges. Sautee the onions for 5 minutes in a non-stick pan with a drop of EVOO and salt to taste.
Mix together the Roccaverano Robiola and the chopped herbs and place it in the refrigerator to cool.
After they have marinated for two hours, rinse the mackerel filets, dry them and cut them into thin slices.
Wash the apple and cut it Julienne-style with the skin and mix this with the cooled onions and make a base about 1/2 cm high on each plate.
Put the Robiola cream in a pastry bag and squeeze out little mounds on each plate. Place the slicd mackerel filets on top and trickle over some EVOO and garnish the dish with shiso leaves.
For the apple sorbet: Wash the apple and cut into small pieces with the skin. Add these with the other ingredients into a Pacojet cup. Activate the Pacojet before serving to make a sorbet and generously place this over the mackerel.
An alternative
To make a normal home-made sorbet: Put all the ingredients (the chopped apple with its skin, lemon juice, water and salt) into a mixer and blend to obtain a creamy consistency (if it is too hard, add water). Pour the blend into a large mixing bowl and place this into the freezer for at least an hour. Remove from the freezer, stir with a fork and then repeat the procedure every half hour until you have the desired consistency. Put the sorbet over the mackerel and serve.

Wine to pair:
Alto Adige Gewürztraminer Sanct Valentin 2019 Cantina Produttori San Michele Appiano
Yellow color with greenish hues. Unique aromas of ginger, oregano and candied cedar. Agile and tense body, good progression. Long, fresh and juicy finish.
Production area: Selected vineyards in Cortaccia, Caldaro and Appiano (300–500m). Exposure: Southeast Soil: Loamy limestone gravel.
Grape variety: Gewürztraminer 100%, indigenous white grape variety in South Tyrol. Age of the vineyards: 5 to 35 years, training System: Guyot.
Grape harvest: mid of September to the end of October; harvest and selection of grapes by hand.
Vinification: Maceration of the grapes followed by gentle pressing. Fermentation and development in stainless-steel tanks. Yield: 45 hl/ha
Alcoholic Content: 14.5 %
Residual Sugar: 6.5 gr/lt
Serving Temperature: 8-10°C
Suggested Food Pairings: Goes extremely well with spicy dishes such as foie gras and strong cheeses. It also pairs nicely with piquant spices and culinary herbs in addition to seafood risotto and the South Tyrolean specialty "Kloaznravioli" with grey cheese.
THIS RECIPE IS OFFERED BY CANTINA PRODUTTORI SAN MICHELE APPIANO
Related Products