Saffron and anchovy potato cakes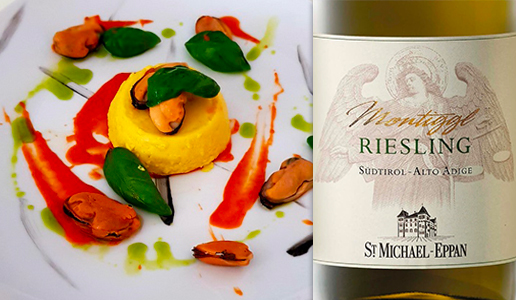 This recipe, elaborated by Chef Matteo Giudici, is completed with a mussel and tomato sauce. We pair it with a nice glass of Alto Adige Riesling Montiggl 2019 San Michele Appiano.
Ingredients for 4 cakes:
For the cakes: 200g boiled potatoes, 250g fresh cooking cream, 1 packet of saffron, 4 anchovy fillets, 2 egg yolks and 1 whole egg, salt and pepper as desired.
For the sauce: 250g fresh mussels, 250g small Piccadilly tomatoes, 2 garlic cloves, 1 tablespoon oil, salt as desired, the grated peel of 1 lime, a piece of fresh ginger, a few basil leaves (saving some for the garnish) and parsley.
Directions:
For the cakes: Pour the cream into the container of an emersion blender and add in the saffron and anchovies. Then add the potatoes that have been boiled in salted water, peeled and mashed. Put in the 2 yolks and the whole egg and salt (not too much because the anchovies are salty) and pepper to taste. Blend well with the mixer. Pour the contents into aluminum ramekins that have been lubricated with the oil.
Put a pan on the stove and line it with parchment paper, then fill it 1/3 with water. Place the ramekins in the pan, cover and cook at a low heat for around 20 minutes without allowing the water to boil (this method simulates cooking in a steam oven) The cakes will be ready when they become firm and the center has the consistency of a crème caramel.
For the sauce: Parboil the small tomatoes then peel them and cut each into four. Put the tomatoes into a bowl with the ginger, grated lime peel, garlic and basil leaves. Salt and trickle in some oil and then let sit for an hour. After this cook the sauce at a very low heat for around a half an hour. Once cooked, blend and filter the sauce.
Clean the mussels and heat them in a pan with the garlic and parsley to open them. Remove the mussels and keep them aside. Continue cooking the mussel water and once it has been reduced by half add in the tomato sauce.
Spread a bed of mussel sauce on each plate and on top place an anchovy potato cake at the center then garnish with the mussels and decorate with some basil leaves. Trickle over a little oil to top it off.
This dish is also excellent when served lukewarm.

Wine to pair:
(edited by Stefania Vinciguerra)
Alto Adige Riesling Montiggl 2019 San Michele Appiano/St. Michael Eppan
Light straw yellow with clear greenish reflections. Intense on the nose with white peach, kiwi, fresh herbs and hints of citrus. In the mouth it is fresh, medium-bodied, balanced and of good salinity.
Production area: Montiggl (Monticolo in Italian), above the large Montiggler Lake (480-550m), in the province of Bolzano. The vineyards are on south-south-east facing slopes on gravelly and pebbly soils.
Grape variety: Riesling from vines from 5 to 20 years old, Guyot trained.
Harvest: early October, with manual harvesting and selection of the grapes.
Wine making: fermentation in stainless steel tanks. Then refinement on fine yeasts for another 5 months. Yield: 60 hl/ha.
Alcohol content: 13% vol.
Serving temperature: 8-10°C.
Suggested food pairings: light fish dishes, Asian cuisine and vegetables recipes. In spring, it is lovely with asparagus salad with a ham roll filled with Bozner sauce. It is also lovely with goat's cheese.
THIS RECIPE IS OFFERED BY SAN MICHELE APPIANO/ST. MICHAEL EPPAN
Related Products