Roast beef with potato focaccia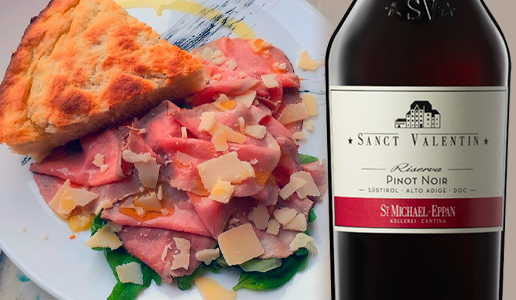 Chef Matteo Giudici prepared this roast beef by cooking a ribeye cut at a low temperature. We pair it with an Alto Adige Pinot Nero Riserva Sanct Valentin 2018 San Michele Appiano/St. Michel Eppan.
Ingredients for 6 people:
For the potato focaccia: 700g 00 flour (250w*), 100g durum wheat semolina, 200g natural yeast, 120g boiled and mashed potatoes, 600g water, 15g salt and 40g extra-virgin olive oil.
For the roast beef: 800g ribeye beef, 4l water, 200g salt, 200g sugar and extra-virgin olive oil as needed.
For plate presentation: Parmigiano flakes, some leaves of valerian or songino salad and a trickle of extra-virgin olive oil.
Directions:
For the focaccia: Put the flours, yeast and 60% of the water in a mixer along with the potatoes and EVOO and blend at a minimum speed for 5 minutes (this can be done by kneading by hand with a lot of patience). Add the salt, some more water and blend or knead for another 5 minutes. Increase the speed of the mixer to the next level and blend in the remaining water.
Put the dough in a tub and fold it over every 15 minutes for a total of three times then cover and let it rise in a warm environment for 4 hours. Divide the dough into 300g ball-shape portions and let rise for another 8 hours.
After the dough has finished rising, spread out each ball in a 30cm pan and bake for 250°C for some 10 minutes.
For the roast beef: make a brine solution by dissolving 200g of salt and 200g of sugar into 4l of water. Sink the ribeye into the brine and marinate it in the refrigerator for 24 hours (the dosage can be reduced respecting the proportion of 50g of salt and 50g of sugar per liter of water). Ensure the ribeye is totally submerged in the brine solution.
After it has marinated, remove the beef from the brine, dry it well and then braze it in a pan on all sides with a trickle of EVOO. Let the meat fully cool and then vacuum-seal it in a plastic bag for sous vide cooking or, if you do not have this type of water oven, you can bake the meat in a steam oven for 4 hours at 55°C. Once done, remove the beef from the plastic bag (or the steam oven) and dry it with a paper towel. Let the meat cool and then cut it into around 2cm-thick slices, best if you use a food slicer.
Place the roast beef slices on plates and garnished them with valerian leaves and top with Parmigiano flakes. Serve with a piece of potato focaccia on the side and trickle over some EVOO.
* 00 flour 250w is very fine and impalpable and has a W strength index of 250W. It is particularly suited for sponge cake, cream puffs and brioche (ed.note).

Wine to pair:
(edited by Stefania Vinciguerra)
Alto Adige Doc Pinot Nero Riserva Sanct Valentin 2018 San Michele Appiano
Pinot nero has been grown in South Tyrol since 1850 and is known locally as Blauburgunder.
Pinot Nero Sanct Valentin, since 1995 part of this line, is ruby red color, to the nose has aromas of small berries, violets and smoky vanilla and, when aged, notes of porcini mushrooms and truffles. On the palate spicy, supple, seductive and stands out for its well-balanced body and fine tannins.
Production area: various vineyards in St. Michael-Eppan and the surrounding areas (400-550 m) on moraine debris and limestone gravel with calcareous content. Exposure: South/southeast to southwest
Grape variety: Pinot Nero, Guyot trained, with a final yield of 45 hl/ha.
Harvest: mid of September; harvest and selection of grapes by hand.
Vinification: cold maceration for 3 days with following fermentation and gentle pressing. Fermentation in stainless-steel tanks, followed by malolactic fermentation and aging in barriques and tonneaux. Assemblage takes place after about a year, and then it is matured for another six months in big oak barrels.
Alcohol content: 14% vol.
Serving temperature: 15-16°C.
Suggested food pairings: ideal as an accompaniment to braised lamb shoulder or back, oxtail and strong cheeses.
Related Products