Rice-filled tomatoes my way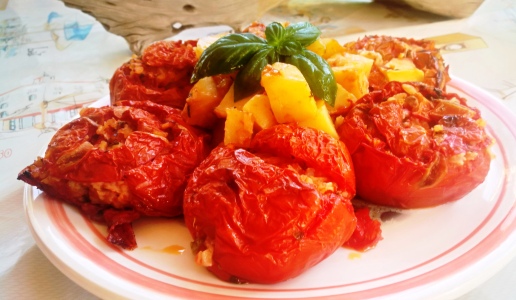 A typical summer dish that is also good the day after and should be paired with a rosé. Here we select a Cerasuolo d'Abruzzo Cataldi Madonna.
Ingredients for 20 tomatoes:
20 large beefsteak or other firm tomatoes. 1kg San Marzano tomatoes, 20 heaping tablespoons of Carnaroli rice (around a kg), 12 yellow potatoes, 1 Sulmona garlic clove, extra-virgin olive oil as needed, 30 basil leaves, a big bunch of parsley and salt as desired.
Directions:
Wash the tomatoes, cut the tops off on the smaller side and keep the aside to be used later as covers.
Scoop out the insides of the tomatoes making sure not to cut the sides. Put the pulp in a bowl eliminating the hard parts. Salt the insides of each tomato.
Briefly boil the San Marzano tomatoes, peel and add them to the other pulp and chop the tomatoes roughly.
Peel the potatoes and cut them into cubes that are not too big.
Brown the finely chopped garlic in a large and broad pan making sure not to burn it. Add in the chopped tomatoes, salt and cook for 10-15 minutes to thicken them a little.
Turn off the heat, add the rice, 5-6 tablespoons of EVOO, the chopped parsley and basil and mix together, salting to taste.
Drain the water that has been created, stuff each tomato with rice but not to the top and then place them in a pan that has been greased with a little oil. Trickle some EVOO on the tomatoes and place the tops back on.
Mix together the potatoes, the leftover rice, EVOO and salt. Place them in on the sides and in-between the tomatoes. Trickle some EVOO over everything, salt and bake in an oven pre-heated to 200°C for at least an hour (depending on the type of oven used).
Serve either hot, warm or cold. They are also very good the next day.

Wine to pair:
(edited by Stefania Vinciguerra)
Cerasuolo d'Abruzzo Cataldi Madonna
Bright cherry color. Intense aromas of red fruit, especially strawberry, then the typical note of almond. In the mouth is a celebration of freshness. An easy and interesting interpretation of the Cerasuolo, marked by neatness and a persistent flowery finish.
Production Area: A vineyard located in Località Macerone in Ofena district (L'Aquila) at 380 mt. asl.
Grape variety: 100% Montepulciano grape, Pergola trellising of plantings completed in 1970.
Wine-making: Cryo-maceration of the majority of grapes followed by fermentation at 15-18°C. The wine then rests on its fine lees.
Alcoholic Content: 12% Vol.
Serving Temperature: 14°C.
Suggested Food Pairing: A rosé for any meal, perfect to accompany tomato dishes and fried food.
Related Products