Pot Roast in Red Wine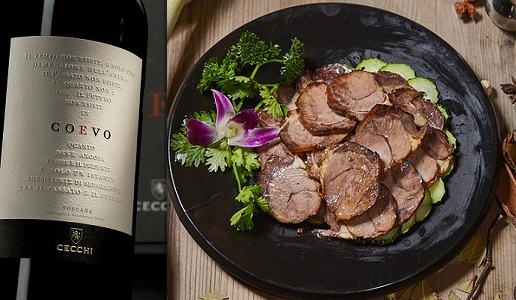 Pot Roast in in Red Wine is a classic of Italian cuisine. We pair it with the Coevo by Famiglia Cecchi.
Ingredients:
1 garlic clove; 2 bay leaves; 40g butter; cinnamon: 1kg beef (breast of beef or brisket); 2 carrots; 3 cloves; 1 onion; 4 tablespoons of olive oil; 3g black pepper; 1 rosemary stick; salt to taste; 2 celery sticks; and Primitivo di Manduria wine.
Directions:
Dry the meat of any excess blood and place it in a large, deep baking dish. Peel the vegetables, cut them into cubes and place them with the meat and add the spices. Add an abundant amount of wine and cover the dish with plastic wrap. Let everything marinate for 12 hours.
After 12 hours remove the meat, place it on a copping board and dry delicately with paper towels.
Melt the butter with the oil in a pot and brown the meat 5 minutes per side until it is brazed.
Add the vegetables and spices from the marinade to the meat and cook for around 15 minutes. When it begins to soften, salt and add the rest of the marinade (which can be warmed up in a microwave). Cover the pot and let simmer for at least two hours.
Once the meat is cooked, remove it from the pot and keep warm before slicing.
Prepare the sauce to accompany the meat by blending with a mixer all the vegetables together with the wine and then reducing it in a pan. Adjust the salt and bring to a boil in order to pour it hot over the sliced meat before serving.

Wine to pair:
(edited by Stefania VInciguerra)
Coevo Toscana Igt Famiglia Cecchi
Intense garnet ruby color. Charming and very neat nose with refined hints of blueberry and sour cherry followed by tamarind and sweet spices. Straightforward palate, with youthful, firm and elegant tannin; full-bodied and supple at the same time, velvety and very persistent.
Production area: Castellina in Chianti for Sangiovese and Cabernet Sauvignon (vineyards at an average altitude of 250 meters); Maremma Toscana for Petit Verdot and Merlot (200 meters). The type of soil is medium alkaline mixture in Castellina in Chianti and feldspathic quartz sandstone soil with a good proportion of stones in Maremma.
Grape varieties: Sangiovese 60%, Merlot 20%, Cabernet Sauvignon 15% and Petit Verdot 5%, with a yield of 4,5 tons per hectare. The planting density is 5000 plants per hectare and the training system is spurred cordon.
Wine-making: alcoholic fermentation in stainless steel at 25-30°C, in contact with the skins. Maceration two weeks for all varieties. Maturation for 18 months in barrique and tonneau. Bottle ageing over 12 months.
Alcoholic content: 13.50% Vol.
Related Products