Polenta with spare ribs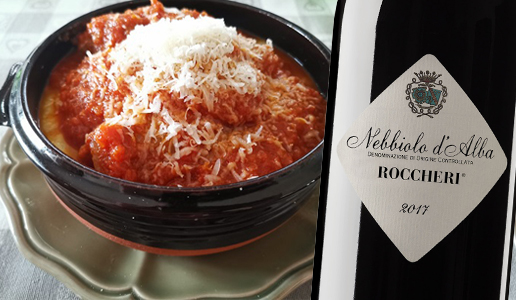 A simple recipe with ancient origins that we pair with a Nebbiolo d'Alba Roccheri 2017 Marchesi di Barolo.
A typical winter dish, one which warms you up on a cold winter's day, polenta is a common fare found throughout Italy in many versions. Before the discovery of America, and thus corn, it was made with a host of grains found in Italy like barley, spelt, rye, millet, buckwheat, wheat and, above in the mountains, chestnut and bean flour.
Ingredients for 4 people:
1.2kg pork ribs, 800g tomato purée, 1 glass full-bodied red wine, 1 garlic clove, ½ white onion, 1 carrot, ½ chili pepper, grated pecorino or Parmigiano cheese (depending on personal preference), extra-virgin olive oil and salt as needed.
For the polenta: 375g corn flour, 1.5l water and coarse salt as desired.
Directions:
Clean the spare ribs and braze them in a large, hot pan with 4 tablespoons of EVOO. Reduce the heat and douse the ribs with the glass of red wine and let it burn off.
Add the chopped onion together with the carrot, garlic clove and chili pepper and let them soften.
Add the tomato purée and simmer for 45-50 minutes until the ribs are fully cooked.
Preparing the polenta: boil the water with some salt and add in the corn flour, stirring it constantly with a whisk, and cook for 45 minutes to an hour.
Serve the polenta on individual plates or on the traditional wooden pastry board (for group meals), add over the tomato sauce with the spare ribs and sprinkle grated pecorino or, if you prefer, parmigiano on top.
Serve hot.

Wine to pair:
(edited by Stefania Vinciguerra)
Nebbiolo d'Alba Roccheri 2017 Marchesi di Barolo
Ruby-red color with garnet highlights. The bouquet has fruity notes reminiscent of wild berries and fragrant hints of violet and wild rose. A light, spicy vanilla note enhances the ample, complex bouquet further. The taste is intense but perfectly balanced and harmonious, with understated, docile tannins.
Production area: vineyards in the Nebbiolo d'Alba DOC area. Nebbiolo extracts many mineral nutrients from the hills made of limestone and clay soil, which enrich its structure, while taking on fragrant and fruity aromas from soil rich in limestone and fine quartz sand.
Grape variety: 100% Nebbiolo. The vines are upwards-trained with a vertical-trellised Guyot system on steep hills.
Vinification: The grapes are manually collected and quickly taken to the cellar where they are destemmed and softly pressed to extract only the most noble and aromatic notes from the peel and the outer area of the grape. Fermentation takes place at a controlled temperature in thermo-conditioned tanks. Maceration lasts for all the fermentation process. During this time, the wine is regularly recycled from the bottom to the top of the tank so that the must takes on a higher alcohol content day after day, while extracting the tannins and the color gradually and delicately. The first racking is done when the natural sugars of the grape are totally converted into alcohol.
Ageing: The wine is racked into cement tanks that are lined with fiberglass and isolated by cork, where it is stored at a post-fermentation temperature of 22° C (72° F) for a long period. In this way, malolactic fermentation starts spontaneously and ends quickly. The wine is then aged in small oak barrels and later it is blended in larger barrels, which help to complete its evolution, enhancing the harmony and elegance of the bouquet. The wine reaches its peak condition between 2 and 8 years of age.
Alcoholic content: 14% Vol.
Serving temperature: 18°C.
Suggested food pairing: Thanks to its structure, the wine is well-matched with tasty appetizers, pasta dishes with rich sauces, roasted or stewed meats. It is also an ideal companion for fresh cold cuts and aged cheese.
Related Products