Peppers stuffed with sautéed amaranth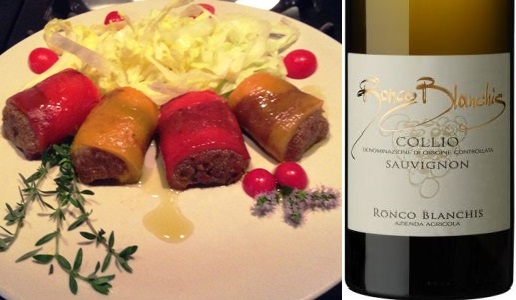 An unusual summer recipe that we match with the Collio Sauvignon 2018 Ronco Blanchis.
This recipe is also suitable for people suffering from celiac disease, since amaranth, a pseudo-cereal very rich in fiber and high quality protein, is completely gluten-free. We enrich the filling with San Marzano tomatoes, Gaeta olives and savory.
Ingredients for 4 people:
300g amaranth*, 2 yellow peppers, 2 red peppers, 10 ripe San Marzano tomatoes, a clove of red garlic, ½ a red chili pepper, 100g of pitted Gaeta olives, 4 fillets of unsalted anchovies, 2 sticks of savory herbs, extra-virgin olive oil and salt as needed.
(*amaranth is a plant very rich in fiber and high-quality protein that is totally gluten-free).
Directions:
Roast the peppers on a skillet and then peel them and remove the seeds. Separate into four lengthwise pieces and save for later.
Soak the amaranth for around a half an hour and then boil it for 15 minutes in 600ml of salted water, stirring to ensure it does not stick to the bottom of the pan.
Parboil and peel the tomatoes and then cut into pieces.
Sauté the garlic in a broad pan with a tablespoon of extra-virgin olive oil together with the anchovies and then crush them with a fork. Add the chili pepper and olives that have been cut into rings along with a pinch of salt and the tomatoes. Cook for around 20 minutes and then add the amaranth and continue to cook in order to reduce the sauce to a polenta-like consistency. Remove from heat and add the savory, salt to taste and let cool.
Place a little amaranth filling on each of the pepper slices and then roll them up. Cut each into two using a sharp knife to ensure the filling does not come out.
Serve topped with a trickle of olive oil and a pinch of salt and together with your favorite salad.

Wine to pair:
(edited by Stefania Vinciguerra)
Collio Sauvignon 2018 Ronco Blanchis
Sauvignon is an international grape variety that in Collio has found a unique and original expression. This yellow greenish Sauvignon has strong aromas from elderberry, cedar, rose, and many hints of fresh herbs. To the palate it is a full, fresh and round wine.
Production area: the hill (Ronco) of Blanchis in Collio - province of Gorizia - formed by Eocene marls.
Grape varieties: 100% Sauvignon, Guyot training system, with 4830 vines per hectare.
Harvest: 3rd - 5th - 6th September with a yield of 8,5 t/ha.
Wine-making: soft pressing of the whole grape, not destemmed, vinification in stainless steel tanks. The following refinement takes place in steel for 7 months.
Alcoholic content: 14% Vol.
Serving temperature: 10-12°C.
Suggested food pairings: Starters in general, raw ham, seafood and seafood sauces.
Related Products