Peppers and zucchini stuffed with meat and pistachio mortadella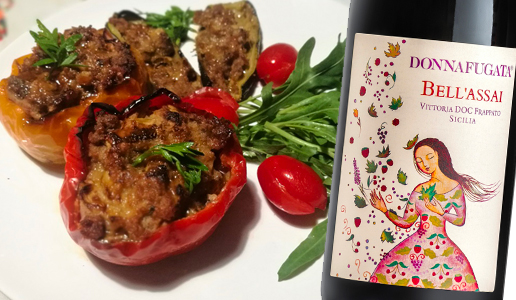 A typical summer dish to eat hot, warm or cold, according to you needs or preference, which we pair with a Vittoria Frappato Bell'Assai 2019 Donnafugata
This recipe is open to your imagination! It can, in fact, be prepared as a vegetarian dish, with rice or simply stuffed with only the bread and various aromas, with cheese and so on. All the possible variations should be tried. Our suggestion: always make a little more.
Ingredients for 4 people:
8 round, sweet peppers, 8 romanesche zucchini, 500g ground meat, 400g stale bread, 200g mortadella with pistachios, 50g grated Parmigiano Reggiano, 2 eggs, 2 tablespoons extra-virgin olive oil, 2 tablespoons chopped parsley, 1 chopped garlic clove, nutmeg as needed and salt as needed.
Directions:
Soak the bread in cold water and then squeeze dry.
In a bowl mix together the ground meat with the chopped mortadella, the softened bread, garlic, parsley, eggs, two tablespoons of EVOO, a little grated nutmeg and salt to taste. Mash together until you have a uniform filling.
Wash the peppers, cut out the stem cap and keep it to the side. Remove all the filaments and seeds. Wash the zucchini, cut them lengthwise and scoop out the white insides. Chop up what you have removed, salt and keep to the side. Lightly salt in the insides of all the hollowed out vegetables and spread a little EVVO in each.
Press dry the zucchini insides and add to the filling. Stuff each vegetable with the filling, trickle over a little EVOO and place them in a baking pan that has been slightly oiled. Cover the vegetables with aluminum foil and bake for 45 minutes in an oven preheated to 180°C. Remove the foil and replace the caps on each pepper, trickle over a little more oil and bake for another 15 minutes until they turn golden.
Remove from the oven, let cool and serve with a vegetable side dish of choice.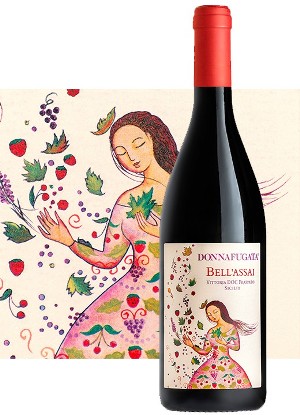 Wine to pair:
(edited by Stefania Vinciguerra)
Vittoria Frappato Bell'Assai 2019 Donnafugata
Light ruby red color with violet reflections. Intense and captivating to the nose, with fruity notes of raspberry and pomegranate, floral hints of roses, light wild fennel. In the mouth it is fresh, immediate, pleasant and satisfying. Very tasty final.
Production Area: In the Vittoria area, between the Hyblean plateau and the sea in south-eastern Sicily, in the territory of Acate, a municipality that falls within the "classic" perimeter of the denomination Vittoria. The soils are medium-textured interspersed with calcareous tuff. The climate is typically Mediterranean, warm temperate, mitigated by a sea breeze during the summer, as well as by a wide variation between day and night temperatures.
Grape variety: 100% Frappato. VSP (Vertical Shoot Positioning) training with spurred cordon pruning, leaving 6 to 10 buds per plant. Planting density 4,000-4,500 plants per hectare (1,619 - 1,822 an acre); yields of 7– 8 tons/hectare (2.8 - 3.2 t/acre).
Grape harvest: harvest time was chosen with extreme care, the vineyards were harvested between 20 September and 3 October.
Vinification: fermentation in stainless steel with maceration on the skins for about 8-9 days at a temperature of 24-25°C (75.2- 77°F). After malolactic fermentation, aging in tanks for 4 months and then in bottle for at least 3 months.
Vintage 2019: In this territory, the climatic trend of the vintage was quite regular with slightly above average rainfall and mainly concentrated in spring and some days of summer. The careful agronomic management favored a harmonious vegetative-productive cycle giving life to grapes that have reached the right level of sugary, aromatic and phenolic ripeness. The quantity produced was lower than in the last two years; the particularly cold spring had an influence on this result.
Alcoholic Content: 12.65% vol.
Serving Temperature: 16°C (60°F).
Suggested Food Pairings: salumi, tasty fish dishes such as soups or guazzetti, tuna sushi as well as typical Sicilian dishes such as "arancini di riso", rice-balls.
Related Products