Pecorino mousse salted tartlets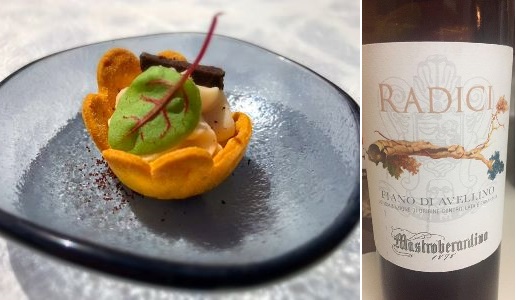 A small, salted and refined shortcrust pastry, tartlets are ideal as an appetizer. We pair these with the Radici Fiano di Avellino 2018 by Mastroberardino.
Ingredients for 16 tartlets:
For the shortcrust pastry: 200g white flour, 100g cold butter, 1 egg and a pinch of salt.
For the filling: 300g semi-aged pecorino cheese, 50ml sour cream, 30g Parmigiano Reggiano, black pepper as desired and a pink of saffron.
Directions:
Mix all the ingredients of the shortcrust pastry in a bowl until you have a homogenous dough. Cool the dough in the refrigerator for around 20 minutes.
In the meantime, prepare the filling by blending together the grated pecorino and Parmigiano, without the rinds. Add in the sour cream, saffron and black pepper to taste. Blend still smooth then put the filling into a sac-à-poche with a smooth tip.
Brush the molds with olive oil and line them with the shortcrust pastry and then bake them for 10 minutes at 150°C. Remove from the oven and let cool.
Remove the tartlets from the molds and fill each with the pecorino mousse. Garnish with wild herbs or – if you like – dark chocolate shavings.

Wine to pair:
(edited by Stefania Vinciguerra)
Radici Fiano di Avellino 2018 Mastroberardino
The straw yellow in the glass preludes to fruity aromas of pear and hawthorn flowers, together with notes of herbs and hints of citrus. In the mouth it is taut and salty, energetic and well-structured, with good nose-taste correspondence and pleasant finish.
Production area: the Santo Stefano del Sole estate, on an elevated terrace, well exposed and constantly ventilated. The exposure is South-West and the soil is sandy, deep, rich in minerals, well-drained. The altitude is 550 m a.s.l.
Grape varieties: 100% Fiano. The training system is the espalier with Guyot pruning with a planting density of 4,000 vines/hectare (about 1,600 vines/acre). The yeald is of about 6,000 kg/ha (5,350 lbs/acres) and 1.5 kg/vine (3.30 lbs/vine) .
Harvest: second half of October. Manual pick up of the grapes.
Wine-making: classic white vinification in stainless steel tanks at controlled temperature. Refinement in bottle for three to four months.
Suggested food pairings: seafood salads, vegetable-based courses, fresh and spun dough cheeses. First courses based on fish and shellfish. Baked and grilled fish, fresh cheeses, white meats.
Related Products