Pea-flour rigatoni with sautéed cauliflower and pecans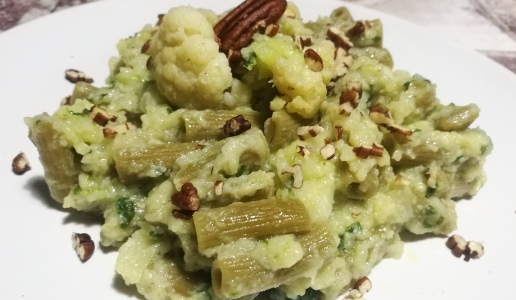 Here is a recipe for everyone especially vegetarians, vegans and people who need to eat gluten-free. It is easy to make, rich in flavor and irresistible. In fact, it is so tasty that even those who prefer classic wheat pasta will like it. We suggest pairing it with a Rosé Trevenezie 11 Minutes from Pasqua Vignetti e Cantine.
Ingredients for 4 people:
320g of gluten-free pea-flour rigatoni, 1 large cauliflower, 1 garlic clove, ½ chili pepper, 60g roughly chopped pecans and extra-virgin olive oil and salt as needed.
Directions:
Clean the cauliflower and separate the heads before boiling them. Drain while they are still undercooked and sauté them in a large pan with the EVOO, garlic, chili pepper and a little salt.
Boil the rigatoni in abundant, salted water and remove them a minute before the suggested time indicated on the package. Add the pasta to the cauliflower and finish cooking, adding in a tablespoon or so of the water used for boiling.
Serve in pre-heated plates with a trickle of EVOO and a fistful of chopped pecans on top.
Wine to pair:
Rosé Trevenezie 11 Minutes Pasqua Vigneti e Cantine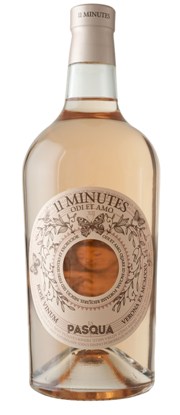 It is a fresh, enveloping rosé with an intense and complex bouquet, created to accompany spring or summer evenings and more.
Production Area: vineyards are located in different area in Veneto region.
Grape Vatieties: blend of Corvina 50%, Trebbiano di Lugana 25%, Syrah 15%, Carmenère 10%. The grapes have been carefully chosen so that, when harvested at proper maturity, they express all the characteristics desired for this rosé. The Corvina varietal dominates in terms of percentage and was chosen because it is one of the principal cultivars in the territory and for the floral aroma it gives the wine as well as guaranteeing significant acidity. Trebbiano brings elegance and a long aftertaste; Syrah gives fine fruit and spice notes to the glass and finally Carmenère creates structure, ensuring stability over time.
Wine-making: vinification in rosé, it means that the full load of grapes is very softly pressed and has a very brief contact with the skins, which the name 11 Minutes refers to. In this optimal length of time the most noble qualities of the grapes is extracted and the slightly rosy shade that characterize this wine is obtained. Once the precious must is created, it is cooled and transferred to a steel tank where it remains for about 11 hours, the necessary time for the more solid parts to decant. After transferring again, the must is inoculated with select yeast and fermentation begins. Temperature range is maintained between 13° and 16°C. During fermentation. the condition of the yeasts in the wine and the entire metabolic proccess is monitored daily to ensure that is functioning at its best. Once alcoholic fermantion is concluded, the wine remains in contact with the lees for about 3-4 months. It is then filtered and bottled in preparation for commercial availability in January following the harvest.
Alcoholic Content: 12.5% vol.
Serving Temperature: 10-12°C.
Suggested Food Pairing: it is ideal as an aperitif and as an accompaniment to the most delicate dishes.